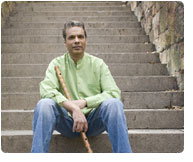 View Additional Info
Fire in the Attic: South Africa's Indian Bansuri-Player Deepak Ram Takes Steps to Merge His Dual Musical Heritages
Deepak Ram may be the only South African-born Indian musician to compose a tune in honor of the dance that Nelson Mandela does on stage. He may be the first person to ever master the jazz standard "Giant Steps" on bansuri (Indian bamboo flute). But none of this is surprising given where he came from. His latest album, Steps (on Golden Horn Records) featuring both of these tunes, is a logical response to his life experience, with one foot in ragas and one foot in African and African-American jazz.
Only a few weeks after he was born in South Africa, Indian musician Deepak Ram's family home was bulldozed. In fact the whole town was razed thanks to South Africa's Group Areas Act, which formally segregated people according to the government's racial classifications. Sophiatown, the mixed area where Ram's parents, uncles, and brothers lived, was the same area that many of South Africa's best jazz musicians originated. So even after they relocated to the all-Indian town of Lenasia, jazz had made its impression on the family.
"When I was thirteen, my older brother spent his wages every week on a jazz LP: Coltrane, Miles, but also Ravi Shankar," remembers Ram. "When he wasn't around, I would sneak and play his albums. My mom and dad would listen to Bollywood, Kirtan, and Bhajan music, and my other brother was making guitars with oil cans like the African kids." But, at age fifteen, when Ram discovered Indian music, starting with his first formal bansuri and tabla lessons in South Africa, he immersed himself completely for the next 20 years. "When I started those lessons, I was born again," says Ram. "I forgot about high school. I read every music book in the local library and wanted to play music all the time."
At age 17, Ram—whose grandfather was brought to South Africa to work on a plantation in 1860—moved to Bombay to study with one of the greatest flute makers in India. "We didn't have family left in India, so I stayed in one of the poorest slums in Bombay and shared a room with nine other people," says Ram. "The household head was a famous flute maker named Suryakant V. Limaye. I was very close to him. He was like a father, a friend." Ram kept going back and forth between South Africa and India studying and practicing.
One day Ram got word that his 65-year old teacher had died and left his collection of flutes to Ram. It was four years until Ram could gather the funds to return to India. The flutes were stored in the attic until Ram's return. "Though they were somewhat reluctant, eventually his family brought all the flutes down and cleaned them up," says Ram. "That night there was an electrical problem causing a fire in the attic. If I had been a day later, the flutes would have been gone forever."
Ram went on to study with world renowned bansuri master Pandit Hariprasad Chaurasia starting at 21. "My technique is informed a lot by my teacher," explains Ram, who is considered Chaurasia's senior disciple and has 400 recordings of the maestro. "For twenty years I listened to my teacher every single day; very concentrated listening."
Steps finds Ram taking his mastery of Indian music and applying it to the jazz he heard as a child. The latest chapter may have begun when Ram was interviewed for a book about flute technique. The author posited that it would be impossible to play "Giant Steps" on the bansuri. Ram took that as a challenge.
"Jazz and Indian music have one thing in common: improvisation. The first American musicians to respond to the earliest Indian musicians that came to the West were jazz musicians. Miles and Coltrane were drawn to the improvisation," Ram explains. "In Indian music you explore a raga for a length of time following melodic convention within a set group of notes. But in jazz the set of notes moves all the time. It's possible to play that way on the bansuri, but it's not designed that way. When you improvise in the raga system it is very concentrated. You explore one mood for as much as an hour in a concert. In a piece like 'Giant Steps' every four beats you have to think of something different because the chords are changing, the harmonies are different. It's a very tricky thing to do.
"The greatest thing gained by doing Steps is I have this newfound love for jazz. I grew up listening to it, but now I can understand what's happening more. It opened this new door to different kind of beauty for me. You can take ten jazz standards and spend your whole life on them, like ten ragas. It keeps evolving as you mature."
Ram's mastery in Indian music influences how he approaches jazz. He applies the aesthetic and melodic philosophy of raga within the chord and harmonic changes of jazz. "When jazz students study 'Giant Steps,' they have certain patterns they study for each chord," Ram reveals. "I looked at Coltrane's transcriptions and thought 'I can't do this. If I do this, it's not me.' Also, I have to play within the limitations of this bamboo flute. So I did my own thing against the chords; I created my own counter melodies." This marks a different approach than most Indian-jazz collaborations which are often done on the fly, without merging the philosophical underpinnings of the two improvisational styles.
Beyond this breakthrough, Steps is an opportunity to hear a profound new element to Ram's playing, regardless of genre; an element well-suited to the human, breathiness of the bansuri. "If you listen to my playing for a long time, you will start to hear subliminal passages," Ram explains reluctantly. "I'll play a phrase more than once, but when it comes time to play that passage again, I might drop out half of it, but you will still hear it. It's like coasting down a hill. You can't hear it, but you do hear it because of what I played before."
From Miles-inspired blues changes over an Indian 14-beat folk rhythm, to Coltrane's India-inspired 'Naima,' Ram's musical shading gently bridges the connection from ragas to jazz standards. Like any two notes in a musical scale, Ram shows that the seemingly disparate music styles are only steps away; even less so with the bent notes of the bansuri.
Additional Info

Fire in the Attic: South Africa's Indian Bansuri-Player ...


Individual track information, and Deepak Ram discography
Top of Press Release