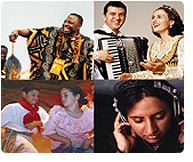 View Additional Info
Unlocking the Open Secret of New York's Cultures:

The Center for Traditional Music and Dance Celebrates Forty Years of Creative Collaboration with New York's Immigrant Communities
Age-old enemies play side by side on stage at a Bronx festival. An elderly clarinet player sparks a nationwide craze for a forgotten music. A group of young African emigres open at a major concert hall for an international star. These moments all came about thanks to the unique approach and unflagging efforts of New York's Center for Traditional Music and Dance, now celebrating its 40th anniversary, an organization committed to long-term creative collaboration with the city's immigrant artists and activists. "When you come to America as an artist and an immigrant, you're trying to find a place for yourself. The Center provided a way for us to find our place, to discover ourselves and enabled us to create a community," noted Kewulay Kamara, a traditional orator from Sierra Leone, summing up the Center's accomplishments.
The Center for Traditional Music and Dance will curate Lincoln Center Out of Doors' Heritage Sunday event for the tenth time on Sunday, August 17th at the Damrosch Park Bandshell in the Lincoln Center Plaza. The free event begins at 2 pm and features performances from Afro-Brazilian music, dance, and martial arts ensemble Ologunde, Afro-Haitian musicians Bonga and the Vodou Drums of Haiti, and Ivorian dance ensemble Kotchegna.

Working directly within communities to encourage creativity, the Center has helped put immigrant culture on the map, influencing both state and federal arts organizations and the New York concert scene. Early on, the Center's programming and advocacy broke new ground nationally by presenting the expressive traditions of diverse cultural communities.

Now, traditional music from around the world can be heard nearly nightly on New York's most esteemed and popular stages, from Joe's Pub to Lincoln Center, from Central Park SummerStage to Carnegie Hall. Gone are the years when the Center had to push for inclusion of immigrant music forms into folk festivals. Today, klezmer and plena have even worked their way into once conservative concert venues, to the benefit of New York's legendary cultural life. "I truly think that organizations like the Center keep New York City at the cultural center of the world," says Hector Morales, cajon instructor at Pachamama Peruvian Arts, the only school in North America where young people can learn traditional Peruvian art forms free of charge.
Origins: From Balkans to Global
After several years of presenting weekly uptown Balkan dance sessions, by the early 1970s, Center co-founders Ethel Raim, a Balkan singer and ethnographer, and Martin Koenig, a dance ethnographer, were crisscrossing the diverse Slavic communities of Pennsylvania and Ohio to find artists for the Smithsonian Institution's Folklife Festival. In the process of meeting people in their homes, at family and community celebrations, in church basements and local community halls, and at small ethnic clubs and bars, they developed a novel approach to presenting tradition to the general public. "We present culture within a community context instead of placing musicians on stage in front of an audience that knows nothing about their music or where they're from," Raim explains.
This meant bringing busloads of community members to the Washington, DC festival along with the artists, something festival organizers initially balked at. Yet what proved cumbersome for a major festival was ideal for community-based work in the nation's most diverse and vibrant city, New York. The groups from the Balkans that inspired Raim and Koenig, as well as myriad other recent immigrant communities, had a strong presence in the city, boosted by a mid-1960s shift in immigration policy.
The Center soon began working with a newly arrived Albanian community in theBronx. "The young people in the community were surprised that a bunch of Americans were interested in their culture," Raim recalls. "It was an eye opener and it was affirming. The overwhelming response from the community really motivated us to evolve as an organization." This first collaboration in the mid-1970s helped refine the aims that have defined the Center for 40 years: to give voice to immigrant communities, assist them to maintain the vibrancy of their culture, and enable them to share the artistry of their traditions with their fellow Americans.
Not long after work began with the Bronx Albanians, the Center started a project with local Macedonians and Greeks and decided to hold a pan-Balkan festival with all three communities in the mid-1970s. "People said we were insane, that we were going to have riots," Raim muses. "But it was a marvelous event and went off without a hitch."
Community-based and -directed cultural projects have the power to do more than overcome long-standing enmity between groups; they can also impact the musical landscape, sometimes on a national scale. During the Center's work with Jewish clarinetist Dave Tarras in the late 1970's, some of the leading people on the project were filling out a grant application. "Andy Statman and Zev Feldmen came in one day, wanting to do a project with Tarras. Zev claims he coined the term klezmer; before that, klezmer was not a recognized genre of music. It was a derogatory term for musicians," recalls Raim. "As we were writing a grant for the National Endowment for the Arts, we needed to state a musical genre and decided, 'Hey, let's call it klezmer music!'"
The ensuing Tarras concert tour and recording, as well as the catchy new label for his music created a sensation and played an essential role in the klezmer revival that brought the music from the shadowy past into popular culture. As ethnomusicologist Mark Slobin recalls fondly, "Coming into Co-op City where over 1,000 silver-haired listeners listened lustily, I was particularly struck by the ones who came up to Dave afterwards and said 'don't you remember, you played our wedding in 19 whatever'--this was really outreach to a community that had been starved for this type of music for decades." Their children and grandchildren also proved hungry, and klezmer became a household word.
Change of this kind does not happen quickly, however, and the Center's projects have uniquely long time horizons. Whether it's the Albanian connections still active over three decades or the decade spent working closely with Upper Manhattan's Dominican community, the Center finds that it takes ten years or more to truly have a profound impact. "We do the guerilla work--very intensive and very grass-roots," Executive Director Peter Rushefsky explains, which has resulted in becoming the regular "go to" referral and clearinghouse organization for NYC's traditional performing arts. This in-depth work takes years and focuses on inspiring and training a new generation of performers and cultural advocates. "We're lighting a spark for the future," notes Raim. "It's a real investment, an incubation process that we are leading in each community."
A Recent Example: New York's Mexican Community
In the case of the Mexican community, the Center's initiative got two non-profit organizations--now fully independent--up and running: Mano a Mano: Mexican Culture Without Borders and the Mariachi Academy of New York.
The Mariachi Academy was the dream of Ramon Ponce, Sr. His son, Ramon Ponce, Jr., now director of the academy, fondly remembers how the organization got its start: "We met and talked about it at a small pizzeria. Then everything was like a chain reaction; one person told another and another and the next thing we knew the Center got an NEA grant and we were able to open the Academy. The Mariachi Academy has been very important to New York's Mexican Community and the entire Hispanic community because it helps children keep their identity and know who they are and where they are from."
This knowledge has helped numerous academy graduates gain more than musical insight into their distinct heritage. It has motivated many students to pursue higher education, and sometimes their musical skills have gained them the wherewithal to do so, as in the case of talented Academy students and twins Crystal and Jasmine Ramos. "During one performance in May 2007, while performing at a dinner fundraiser, an elderly American woman was so taken by their Mariachi musical skills, she wrote a check of $1,000 for each twin on the spot right after seeing them perform," Ponce smiles.
The Future
By bringing performers like the Ramos twins into new fruitful places and exposing them to other global sounds, the Center has fostered forty years of cultural exchange between its supported artists. As Joanie Madden, leader of the internationally renowned Irish traditional group and Center success story Cherish The Ladies, puts it, "We were part of festivals the Center put on all around New York, where they'd present the best and the brightest of so many ethnic groups' musics, in a way that really opened my eyes--I had never seen or heard a lot of this stuff, although I had grown up in New York." Demetrious Tashie, Greek music and dance specialist, feels that the Center "brings together communities that would never be exposed to the cultural treasures that each holds. It is one of the only organizations that is preserving and presenting the folklore and cultural traditions that are the open secrets of this city."
Looking to the next four decades, the Center is helping create a long-awaited physical home for New York's living cultural heritage--a new cultural center that will include a School of Traditional Music and Dance. Drawing on its rich archive of unique materials, the Center is also working to put rare video, audio, and photographs online, enabling the world to experience the artistry of great musicians and dancers, past and present, and forging a new kind of community in cyberspace. And naturally, the Center will continue its work within New York's immigrant communities, its hallmark concerts, workshops, classes, and release of archival recordings through the Center's Global Beat of the Boroughs series on Smithsonian Folkways, as well as the Center's own Ethnic Heritage Recording Series.

Additional Info

Unlocking the Open Secret of New York's Cultures: The ...


40 years at the CTMD
Top of Press Release