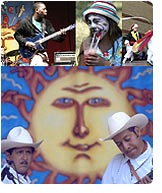 View Additional Info
A Road Trip around the Globe: Sunfest Unites the World's Best Music, Food and Crafts in Four Admission-Free Days, Only a Short Drive Away
How can you whisk around the world this summer, while still beating sky-high fuel prices? How can you revel in a festival experience to remember without breaking the bank?
The answer is just a short road trip away: TD Canada Trust Sunfest (July 3-6), a free-admission festival of global music, crafts, and cuisine held in London, Ontario's beautiful Victoria Park. Canada's largest world music festival attracts major global names, intriguing international newcomers, and an array of the country's increasingly cosmopolitan music heroes. This year's headliners include acts from countries like Cuba or Pakistan that are next to impossible to catch in the United States.
Sunfest also unites music lovers from all over North America and Europe: A group of several hundred fans make a yearly pilgrimage from Dayton, Ohio. Another caravan road-trips from Detroit each year. And one diehard music fan traveled all the way from Holland to catch Quebecois masters Le Vent du Nord. Leading the Ohio posse is the quirky Reverend Cool, who never misses Sunfest, no matter what. "One year, he had a marriage to perform right in the middle of Sunfest. So he came to Sunfest on Thursday and Friday, drove back to do the wedding on Saturday, and rushed back on Sunday to catch the rest of the festival," chuckles Sunfest Artistic Director Alfredo Caxaj.
Festival devotees come for the distinctive atmosphere as well as the music. Sunfest's charming and imminently family-friendly setting means thousands of people from around the globe meet, dance, feast, play, and kick back together. Hundreds of area craft and food vendors complement the dozens of bands on stage. And if festivalgoers need a change of pace, they are right in the heart of London's culture and entertainment district, a short walk from museums, restaurants, and great places to stay.
"We offer the global village in one convenient location, the flavors and tastes of the whole world," Caxaj exclaims. The festival's embrace of world cultures is unique: No other festival in Canada focuses exclusively on world music. Sunfest's line-up is a study in cultural contrasts, where soaring devotional music from Pakistan (Rizwan-Muazzam Qawwali) can follow down-and-dirty Dominican guitar riffs (Puerto Plata). "World music has become a complement to the programming for many festivals, but for Sunfest, it's always been the priority. Many of these performers headline other summer festivals in North America, but people have to pay admission. Here at Sunfest, we have extraordinary talent accessible to the whole community, which creates a unique environment."
This year's line-up includes the vibrant 80-year-old Afro-Colombian diva and percussionist Etelvina Maldonado, who taught a generation of singers everything they know and who is coming to North American only for select performances in Ontario. Seun Kuti and Egypt 80 carries on father Fela's unforgettable Afrobeat revolution, wooing hipsters and Afropop lovers alike. Grammy-winning Los Gaiteros de San Jacinto breathe new life into the African and indigenous roots of Colombia's coast with their traditional quill-tipped gaita flutes. Gorgeous young singer-songwriter Dobet Gnahoré from Ivory Coast, and Cuba's answer to Ladysmith Black Mambazo, the Cubo-Haitian Grupo Vocal Desandann, are a few of the fresh faces to the global scene featured at this year's Sunfest. Guatemala's Marimba National de Concierto will show festivalgoers what amazing things can happen when you put eleven marimba (wooden xylophone) masters together.
The great diversity of Sunfest is further enhanced this year thanks to "Fiesta '08," a showcase of almost a dozen top Latin American jazz, roots, and dance ensembles. Fiesta is in many ways a tribute to the changing face of London, whose Latino residents have made the festival their own. "For many people, Latin American music means only salsa or merengue or, more recently, reggaeton. But there is so much other stuff out there," Caxaj explains. "We want to explore as much as we can; a wide spectrum of what Latin American culture is all about."
And Latino Londoners are all abuzz about Fiesta '08: when Caxaj mentioned Los Gaiteros' upcoming performance to a friend from the city's burgeoning Colombian community—cleverly dubbed "Londombia"—he was delighted to see the group all over the front pages of the Spanish language newspapers the next day. "Latin Americans came here for different reasons; they go to different churches. There is no other time you will see them all together, only during the festival," Caxaj notes. "So you see Nicaraguans who came because of the Sandinista regime, dancing with Salvadorans who came because of dictatorships."
Sunfest offers Americans something else they may not get anywhere else: Canada's most compelling jazz and roots performers all in one place. From premier South Asian vocalist Kiran Ahluwalia to sultry urban jazz diva Kellylee Evans, from the Quebecois klezmer group Gadji-Gajdo to First Nations singer-songwriter Sandy Scofield, Sunfest highlights Canada's rich musical heritage and its new wave of innovative global sounds.
As word of the Sunfest experience has spread, the festival has become a prime destination for Canadians and, increasingly, Americans, too. "It's so amazing to see the number of emails and calls we get every year from people asking for the festival date because they want to plan their holiday around our event," Caxaj smiles. "They can spend their weekend savoring every aspect of all these cultures from music to arts & crafts to food. They come with their family and friends because they can really relax. And the kids can walk freely in the streets." It's a perfect summer getaway for the music lover or family in search of an inexpensive "Celebration of World Cultures."
Additional Info

A Road Trip around the Globe: Sunfest Unites the World's ...


Sunfest Raves: Devoted Fans Talk About Why They Make the Drive to ...
Top of Press Release