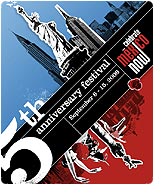 View Additional Info
Mexican Mind-Readers, Oaxacan Cuisine, and Tijuana Surf Rock: The Best Music and Arts from South of the Border in NYC for a Week

NYC's Celebrate México Now—September 8-15, 2008—Presents Music, Dance, Arts, Film, and Food

Celebrate México Now has a history of stylishly shattering stereotypes and social boundaries. At one past opening night, a huge sound system was pumping out the cumbia beats that often waft through small towns in Mexico, while a glib MC called out names from little scraps of papers brought by partygoers looking for their immigrant relatives. Scenes like this usually unfold below the mainstream radar, albeit in venues big enough to hold thousands.
But this time was different: The party was at Lincoln Center's Bandshell and the band was getting consuls and professionals boogying next to laborers, something unheard of in the Mexican community. And this year promises to be no exception as Celebrate México Now, a multi-venue, multi-disciplinary arts festival held this year September 8-15, takes New York by storm with tongue-in-cheek mind-readers, prix-fixé feasts at 16 of the city's top Mexican restaurants, Veracruz's Fandango, and Mexico City's hippest funk.
Celebrate México Now emerged five years ago from a curious gap in the programming at the city's central art venues: few were presenting contemporary Mexican performers. Yet, Festival Founder and Director Claudia Norman explains, "There was a keen interest from major venues in what for them was a new community, the third largest Hispanic group in New York City."
But the venues—from Lincoln Center to Joe's Pub—had little idea who exactly they were courting and what they should be presenting. "There was no information or background on who these potential audiences were. Who we are," notes Norman, who hails from Mexico. "The festival is helping a lot to conceptualize that as well. It's serving not only the artistic community; it's serving the city as well." Consciously pegged to Mexican Independence Day, not Cinco de Mayo which is a bigger holiday in the US than in Mexico, the festival brings to light underexposed sides of today's Mexico, with its global-minded arts scene and varied local traditions and cultures.
A whole new world of Mexican culture came to light one year at the festival's tri-lingual reading by an internationally recognized young poet writing in Oaxaca's indigenous languages. It drew an unexpected audience, a whole group of Mexicans who came to the U.S. and jumped straight from Zapotec to English, without learning Spanish. "At the end of the reading, a guy approaches me," Norman recalls, "and says, 'This is so important what you are doing. I'm part of the new community arriving in New York. We all speak Mixtec and Zapotec. If you ever need a translator, let me know.' This man works at a deli, but is a huge fan of this poetry. Without the festival, we wouldn't know that these people existed."

"A new wave of Mexican culture has flooded the United States in recent years, spanning a wide cultural and artistic spectrum, and offering a fresh, young and innovative face of Mexican art," comments Ruben Beltran, Consul General of Mexico in New York. "I am sure that Celebrate México Now will have a substantial and lasting impact on all the multi-ethnic and multicultural communities of New York, helping to strengthen the image of Mexico and to foster a better understanding of our country."

The festival this year promises to keep the spirit of surprising international connections alive with performances, exhibits, and culinary events reflecting the Mexican take on global artistic currents. Cutting-edge Mexican artists will expand horizons, read minds, and wow palates.
The perfect poster girl for Celebrate México Now closes this year's festivities at Town Hall (Sept. 15), the Oaxacan-American songstress Lila Downs, performing with the talented young musicians of the Mariachi Academy of New York and local alt-Latin folk bad girls, Pistolera. Downs, an inveterate transformer and transgressor of musical and political boundaries, invokes the Mixtec songs of her cabaret star mother, the richness of North America's myriad folk traditions, and a healthy dose of rock to create cross-border ballads and rollicking anthems.
An unexpected combination of performance art and clowning, Novak Poderoso DeMente (Spiegelworld; Sept. 14) is a bilingual romp through the world of a brooding, mysterious psychic and magician prone to on-stage gaffs and sudden crushes. Created by Mexican graduates of Ringling Brothers' Barnum & Bailey Circus Clowning College, the performance turns magic shows on their heads with the off-beat antics of the carnival tent.

Young artists and hipsters worldwide are mining vintage sounds and images, and finding fun in kitsch. For young Mexican musicians, this new direction means moving beyond Rock en Español, going global, and transforming Mexican schlock and glitz into a collage of quirky and imminently danceable music. Such is the case with DaPuntoBeat and Los Músicos de José (U.S. debut), funky staples of the Mexico City scene (Joe's Pub; Sept. 13). DaPuntoBeat combines turntablism and high-octane neo-disco into extremely intelligent dance music. Los Músicos de José moves effortlessly from hard-hitting grooves tinged with metal to booty-shaking jazz jams.
With one foot in Tijuana, FACA (NYC debut) puts an ironic spin on surf and garage rock, with kitsch iconography as the visual backdrop to their live show (The Delancey; Sept. 13). Joining FACA for this festival after-party will be New York-based DJ Sonido Discoyoacán, whose sets jump with a wink from Mexican soap opera themes to '70s psychedelica, from vintage mambos to electronic sounds.
The recent international fascination with boundaries and identity is playfully expressed in a photography exhibit by two Mexican artists, The Other Lado, which contrasts striking side-by-side portraits of subway riders in New York and Mexico that reveal similar gestures and attitudes despite the physical and cultural distance (King Juan Carlos I of Spain Center; Sept. 10-Dec. 6). New York-based Mexican choreographer Ofelia Loret de Mola and her ensemble danscores similarly explore the metropolis' hidden boundaries and connections in a site-specific piece unfolding on an often ignored plaza behind City Hall, to the sounds of a live Mexican punk performance by musicians from the Yucatan (City Hall Park; Sept 8-15).
The product of an international collaboration between Celebrate México Now, the Tribeca Film Institute, and Mexico's Morelia International Film Festival, the five shorts presented at 5x5 (School of Visual Arts; Sept 12) offer a sampling of modern Mexican film (in Spanish with English subtitles). From inspiration spurred by insomnia to finding love on the streets of Mexico City, these five, up-and-coming young filmmakers give voice to an emerging cinematic voice.
Joining in the celebration of Mexican cuisine, more than a dozen of New York's tastiest Mexican restaurants during the festival will offer special prix fixé, multi-course lunches and dinners for New York Authentic Méxican Restaurant Week, sponsored by the Authentic Flavors of Mexico Foundation and the Mexican Ministry of Agriculture. Part of a recent minor boom in culinary fascination with Mexico's many flavors and techniques, Restaurant Week will offer gourmets a unique chance to explore the climate, culture, and history of Mexico with a knife and fork.
"Mexico is a very big nation, like Brazil. Each region is a country by itself, with completely different realities. It's so close and has so many relationships with the U.S., and yet so little communication," Norman explains. "That's why Celebrate México Now is bringing contemporary Mexican voices to new audiences, and not only from Mexico City, but New York, the border, from Guadalajara, from Monterrey. And it makes sense to do it here in New York City: People are ready for it."
And New Yorkers agree: "Celebrate México Now showcases the great breadth of contemporary Mexican arts and culture," states Carlos Manzano, Executive Director of the New York City Mayor's Office of Latin Media and Entertainment Commission. "With a strong and growing Mexican population, New Yorkers have the opportunity to deepen their exposure to Mexican culture. This event attracts thousands, presenting them with new styles and genres that contribute to New York as the arts capital of the world by emphasizing the diversity of Latin culture and the contributions and relevancy of contemporary Mexican Arts."
********************
Please visit the festival web site for more information, including a complete calendar of events, ticket information and venue locations at www.mexiconowfestival.org.
Celebrate México Now 2008 is sponsored by: American Express, Bloomberg, Dos Equis, Manhattan Community Arts Fund (supported by the New York City Department of Cultural Affairs and administered by the Lower Manhattan Cultural Council), Consejo Nacional para la Cultura y las Artes de México (CONACULTA), Mexican Cultural Institute of New York, Sabores Auténticos de México, NYRemezcla.com, Pampano, Razorhead Music, and Materials for the Arts.
Celebrate Mexico now is a fiscally sponsored project of The Field, and is made possible, in part, by Lower Manhattan Cultural Council's Swing Space Program, with the generous support of The September 11th Fund. Project space donated by JPMorgan Chase.
Celebrate México Now 2008 is officially supported by Mayor Bloomberg's Latin Media and Entertainment Commission.
Celebrate México Now is produced by CN Management, an arts consulting and management firm, under the direction of Claudia Norman and Celebrate México Now Festival Coordinator, Alyssa Alpine.
Additional Info

Mexican Mind-Readers, Oaxacan Cuisine, and Tijuana Surf Rock: ...


Event Listing Info
Top of Press Release