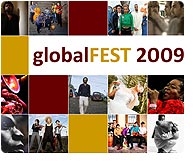 View Additional Info

World Music Breakthroughs, Now on Stage in America: globalFEST 2009 at NYC's Webster Hall, January 11, 2009

Line-up to feature Brooklyn Qawwali Party, Calypso Rose, Chicha Libre, Hot 8 Brass Band, Kailash Kher's Kailasa, L&O, La Troba Kung-fú, Marcio Local, Occidental Brothers Dance Band International, Shanbehzadeh Ensemble, Tanya Tagaq, and Watcha Clan.

WNYC.org to Webcast Live All Three Stages



Tickets are $35 for general public (18+) through November 30, and $40 thereafter and are available at www.ticketmaster.com or 212-307-7171. (Note: Femi Kuti's appearance at globalFEST has been cancelled due to illness. Brooklyn Qawwali Party will take his place in the lineup.)

If you want a sneak peek at the global musicians likely to tour North America in the next few years, there is one must-see music festival: globalFEST 2009.

For the sixth year, this leading showcase for international sounds keeps a foot in the door of cultural exchange, giving dozens of musicians access to the national stage. The event takes place on January 11, 2009 (7 pm) on three stages at the newly remodeled Webster Hall in New York City. With just one ticket, festival-goers can see twelve acts in one night, representing diverse global styles, from groundbreaking hybrids to little-known traditions, and in three unique settings under the same roof. WNYC, media sponsor of globalFEST, will be webcasting live from all three stages on www.wnyc.org.

globalFEST is timed to coincide with the annual Association for Performing Arts Presenters conference, when thousands of concert presenters are in town to program their upcoming seasons. While globalFEST was created in the wake of 9/11, a time of xenophobic backlash and tightening visa restrictions, the festival has always kept a finger on the pulse of cross-border musical exchange and has adapted to the changing needs of the field. The festival directors—Bill Bragin of Acidophilus: Live & Active Cultures and Isabel Soffer of World Music Institute, are joined by Shanta Thake of Joe's Pub at The Public Theater.

U.S. policies continue to create challenges for touring musicians from abroad, but shrinking arts budgets and rising travel costs are also weighing heavily on many presenters' minds. Co-producer Isabel Soffer explains: "The groups we have chosen this year reflect the climate we believe arts presenters, artists, agents, and audiences will be experiencing in the near future. We have taken into consideration groups that we feel will succeed artistically and economically in a variety of venue types, keeping in mind ticket sales, originality, and ease of touring. We have included five North American-based groups, smaller ensembles and some major draws, as well as groups completely new to the market that we think will create a big impact."

What the festival is really known for is the new opportunities it creates for touring musicians. "World music" continues to transform from folkloric niche to pop phenomenon. "International sounds are permeating unexpected places," says globalFEST co-director Bill Bragin, whose day job is Director of Public Programming at Lincoln Center. "When you look at some of the large, general market rock festivals like Bonnaroo, Lollapalooza, and Coachella, world music is starting to make its way into the lineups. It's popping up more and more in commercials and soundtracks, and in major concert halls." The once unthinkable—that an mbalax band (and globalFEST alum, Fallou Dieng) would open at the Hollywood Bowl for Gnarls Barkley or that an Inuit singer (and upcoming globalFEST artist Tanya Taqaq) would collaborate with Bjork—has become the highly anticipated, thanks to the iPod, the Internet, and ever-expanding opportunities for audiences to hear global music live.

globalFEST has played a significant role in stoking this world music revolution, presenting over 60 artists in its first 5 editions. Veterans of the festival have included Mariza, who made her way onto the stages of Carnegie Hall and the Late Show with David Letterman; Balkan Beat Box and Dengue Fever, which broke out of the underground to major festivals; and Nation Beat, which recently collaborated with Willie Nelson at his Farm Aid festival. Lo Còr de la Plana and Little Cow—both from globalFEST 2008— were able to use their appearance to secure US agents and subsequently conduct major national tours this year.

Major tours and visibility for a new kind of world music have sparked an array of musical hybrids and a plethora of collaborations where musicians spanning the globe share the stage. This border-crossing creativity does more than entertain; it educates and closes the gap between countries and cultures. "In times of economic turmoil, like we find ourselves in today, often the impulse is to cut back on exposure and funding for artists from abroad. However, we see all too clearly how our governments depend on one another for stability," globalFEST co-director Shanta Thake reflects. "globalFEST creates an opportunity to offer a cultural parallel where we can build a dialogue through music and begin to break down barriers of fear and ignorance."

Tough times make global connections and cultural exchange all the more crucial, a fact recognized by everyone from president-elect Barack Obama to arts presenters in Cedar Rapids. International players, such as globalFEST founding sponsor, the Cultural Services of the French Embassy, also see the value in connecting across borders, and in supporting globalFEST for six consecutive years. "globalFEST is one of the most important world music events in the U.S. today and the perfect showcase for French and Francophone musicians' creative energy," explains Emmanuel Morlet, Musical Attaché at the French Embassy. "We continue to make globalFEST a priority, even in lean times, in hopes of sharing the multicultural musical heritages of France and beyond with North Americans and, more importantly, furthering our mutual understanding and education as global citizens."

This year's globalFEST roster opens up this conversation by introducing audiences to established artists they have not heard before, striking yet unheralded traditions, wild young innovators playing with centuries-old forms, and funky global revivalists of 1970s musical activism.

Many international artists who are the musical toast of their communities remain virtually unknown to the broader U.S. audience. Kailash Kher, a sensation in the Bollywood film world with his Sufi inflected popular songs, a judge of "Indian Idol," and a household name on the Subcontinent, will finally blast onto the American scene, with his band Kailasa in tow. Though most everyone knows calypso, few Americans outside Caribbean communities know Calypso Rose, the grand dame of calypso, who has spent decades writing over 800 songs from fun-loving party numbers usually associated with Carnival, to politically and socially conscious anthems.

Along with unheralded international icons, globalFEST has always made a commitment to bringing lesser-known genres to U.S. stages too. Paris-based Shanbehzadeh and his son dive deep into the trance-like vocals and compelling rhythms of Boushehr in Southern Iran, a neglected corner of the Middle East, where Persian, African, and Indian sounds have merged for 500 years. Shanbehzadeh's roots go back to the East African island of Zanzibar; his hip-swinging dances, unique bagpipe, striking double flute, and stirring percussion reveal an unexpected side of Iranian music, one steeped in traditions from around the Persian Gulf.

Tradition is never static, and globalFEST has launched numerous young innovators into the limelight. This year's lineup highlights North America's vibrant roots scene from the far north of the Arctic Nunavut to the sultry south of New Orleans. Canadian First Nations vocalist Tanya Tagaq taught herself Inuit throat games out of homesickness as a young woman, but went on to take tradition in a radical new direction, collaborating with artists as diverse as the Kronos Quartet and Bjork. The young musicians—all under 25—of Hot 8 Brass Band started off playing their mix of hip hop, R&B, and traditional jazz on the mean streets of New Orleans, where several members died due to gun violence, until Hurricane Katrina and Spike Lee launched the group into the national spotlight with an appearance in Lee's film When the Levees Broke. The Occidental Brothers Dance Band International reflect the Windy City's musical past and cosmopolitan present in their NYC debut, bringing a blend of Ghanaian highlife and Congolese rumba with the avant-garde jazz, house, and indie rock vibes that have put Chicago on the musical map. Paying tribute to one of the world's greatest vocalists, Brooklyn Qawwali Party formed to honor the legendary Nusrat Fateh Ali Khan, reworking his thunderous songs for an eclectic, 11-piece orchestra comprised of groundbreaking jazz musicians.

Europe is also bursting with new takes on old sounds. France's L&O, led by violinist Oliver Slabiak of klezmorim Les Yeux Noirs, (a standout group in globalFEST's inaugural edition), will make the US debut of a new project with his operatically trained vocalist wife Laure, bringing their swinging and cosmopolitan update of French chanson. In the mestizo spirit of their compatriots Manu Chao and Ojos de Brujo, La Troba Kung-Fú stays true to the Catalan roots of one of Spain's most popular musical exports, the infectious flamenco-inflected rumba catalana, while gleefully adding elements from cumbia to salsa to dub. Fronted by a be-dreadlocked Algerian Jewish singer born in Marseille, the tribal electronica of Watcha Clan turns the Mediterranean Basin into one big rave, uniting Balkan and Berber beats, four languages, and one mean sampler.

Performing for the first time outside of Brazil, Rio's Marcio Local extends the legacies of influences like Jorge Ben and Banda Black Rio, standing at the crossroads of two great traditions in modern Brazilian music, Afro-Brazilian samba and'70's soul, to create an undeniably cool and funky ode to political change and carioca life. Led by Olivier Conan, French émigré and owner of the influential nightclub Barbes, New York's Chicha Libre keeps the spirit of Amazonian psychedelic surf-cumbia alive, playing Peruvian gems alongside funky originals in the era's care-free, syncretic style.

Drawing on the bounty of sounds, styles, and approaches exploding around the world, globalFEST has opened minds and doors for outstanding international artists and contributed to this goal. "What we've done is successfully demonstrated the full range of styles that fall under this rubric of 'world music,'" Bragin notes. "We helped open up the definitions of the genre, and helped presenters and artists come together to discover exciting new booking horizons, all the while bringing music fans in New York City one of the annual concert highlights of the year."

globalFEST is a volunteer-run co-production of World Music Institute, Joe's Pub at the Public Theater, and Acidophilus: Live & Active Cultures. Support for all six editions has been provided by The Cultural Services of the French Embassy with additional support from the French Music Export Office, recognizing France's pre-eminent role as a hotbed of global music activity. globalFEST media sponsor is WNYC Radio. globalFEST is presented in association with Bowery Presents.

Visa services are provided courtesy of Tamizdat. La Troba Kung-Fú's performance is supported by the Institut Ramon Llull. Tanya Tagaq will appear at globalFEST thanks to support from the Canada Council for the Arts and the Foundation for Assisting Canadian Talent on Recordings (FACTOR). Tickets cost $40 for general admission, with a special early-bird price of $35 for general public (18+) through November 30, and are available online at www.ticketmaster.com, or via telephone at 212-307-7171.

Tickets can be purchased with no service charges, cash only, at the Mercury Lounge 217 East Houston Street, Manhattan, Mondays – Saturdays, 12 noon – 7pm. For additional information, contact the World Music Institute box office at 212-545-7536. The artist line up is subject to change. Please note: due to illness, Femi Kuti has cancelled his appearance at globalFEST 2009. Brooklyn Qawwali Party will take his place in the lineup.





Additional Info


World Music Breakthroughs, Now on Stage in America: globalFEST ...


Performance Schedule
Top of Press Release