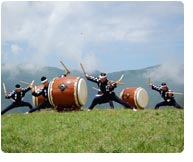 View Additional Info
A Refuge of Culture, a Haven of Drums:

Taiko Pioneers Distill New Japanese Traditions on a Near-Forgotten Island
Kodo Performs in 29 Cities across North America January - March 2009 on One Earth Tour

Innovations in metallurgy, African and Indonesian inspiration, and spartan communal living on a forgotten island. These are some of the elements that North American audiences may not realize go into the sounds they will hear when premier Japanese taiko group Kodo performs in 29 North American cities this January, February, and March on their One Earth Tour.
Kodo are the best-known beacons of Japanese music and the rumbling sounds of the giant taiko drum. They have scoured Japan for little-known traditions, bringing music from Shinto shrines and harvest festivals to the world stage. They are credited with enlarging significantly the traditional drum design, now copied by many other taiko performers, putting Japanese percussion on the global musical map. While this approach is nothing new for Kodo, if you listen closely, twenty years after they founded Kodo Village on a near-forgotten island known for its artist and intellectual exiles, the group's 2009 One Earth Tour echoes with a sound that could only come from rigorous training, their singular collective lifestyle, and an unflagging spirit that connects people across cultures and to our planet.
Kodo's spirit was forged in the unique crucible of Sado Island, an island the size of Okinawa off Japan's northwest coast. The island saw an influx of new inhabitants when gold was discovered during the Edo period, and saw several centuries of artists and intellectuals in exile, extraordinary men banished by Japan's rulers for political reasons. "Many cultures in turn came to Sado on thousands of ships from all over Japan. That made the island's culture very complex and interesting," explains Kodo member Jun Akimoto, who has worked with the group for over a decade.
This unique cultural environment, combined with the island's remoteness and fertile soil, helped many traditional Japanese folks arts survive the modernizing wave that hit the country in the mid-20th century. Sado became a world apart, and its tight-knit fishing and farming communities continued their songs, dances, festivals, and Noh theater performances.
Enter a handful of art-focused students, tired of urban life and hungry to reconnect with traditional craftsmanship and artistry. In the 1960s and '70s, Sado proved the perfect place to "create somewhere for young people to gather and learn what we had forgotten for many years," says Akimoto. Thanks to Sado's astounding local arts scene—there are over 30 Noh stages on the island, more per capita than any other place in Japan—there was an embarrassment of cultural riches. But the aspiring young artists yearned to share their culture with the world. The answer: start a touring drum ensemble.
The result was a new and innovative taiko group, founded on high ideals and stringent discipline. "I still cannot imagine what the first generation felt, what they experienced being on the island for the first time. Then those newcomers went on tour, people with next to no experience as musicians or drummers," Akimoto reflects. The group, then known as Ondekoza, had a powerful impact at its North American debut in the 1970s, running the Boston Marathon and then hopping on a cart to start a full-on taiko performance. In 1981, a committed core of these original musicians founded Kodo, later opening Kodo Village in 1988.
While drums, cymbals, and other percussion instruments have always been a part of Japanese cultural life, echoing in its shrines, at festivals, and at court, the musicians who came to found Kodo soon discovered a whole new way of playing and building the ancient instruments. Inspired by tradition as well as by contemporary music from Western classical to jazz, drumming went from being the heart of ritual to the heart of a new kind of collective creativity.
But this isn't your average musical endeavor. Kodo keeps the original communal spirit of Japanese drumming alive, while creating new pieces and group projects. "Taiko is not simply percussion," Akimoto explains. "It's a part of life, and part of communities. It unites people with people, and also people with nature and even with gods."
To live up to this philosophy, Kodo does more than simply get together for rehearsals or tours like other musical groups. It is a village, an intentional community that harvests rice, runs a two-year apprentice program, and even crafts eco-friendly Earth Furniture. Kodo's way of life is just as striking as its music, in part thanks to Sado's culture.
"Communal life, real village life, still survives here," Akimoto notes. "My generation, raised in the cities and suburbs, never had any idea that this kind of lifestyle still exists in Japan. But on Sado Island the main occupations are agriculture and fishing. Because people still do this kind of work, they have kept all these communal ties and relationships. This atmosphere makes it very easy and natural to live communally for Kodo's 50 members, too." The strong communities of Sado formed the basis for Kodo Village, now celebrating its twentieth year of group living and creativity.
Though deeply rooted in Japanese and their own community traditions—Kodo holds a small ceremony to mark its two annual rice harvests, for example—Kodo is constantly evolving, as apprentices complete a rigorous two-year program to join the group. Globe-trotting new pieces composed by the younger generation of Kodo will see their North American debut in 2009.
"Tamayura no Michi," composed by 25-year-old former urbanite Shogo Yoshi, turns traditional melodies on the bamboo flute and Kokyu (a small shamisen-like stringed instrument) into a taiko piece that seamlessly melds old and contemporary sensibilities.
"Tobira," a piece focused on small portable drums, was created by female Kodo member Tsubasa Hori, a former rock drummer on the Kyoto alternative scene, and inspired by the rhythms of flamenco and Western Africa. Kodo's wholehearted inclusion of women drummers was a turning point for the group and Japanese drumming as a whole. "We have come to know that female drummers have different ideas than male drummers. And because our different physical characteristics influence how we play, we are finding techniques and styles which male drummers never imagined. This kind of imagination and the new styles created by female drummers is becoming more and more important in Kodo tradition."
Older works are constantly being refined and distilled, whether through innovative design changes to old instruments, like the cymbals redesigned by a former Kodo member to be forged from a single piece of metal, heard in the new kecak-inpired composition "Jang Gwara." Or through reworkings of classic Kodo pieces, like "Sankan Shion" based on the rare drumming style of Hachijo Island where men and women played together, as they do in Kodo.
"If we were based in Tokyo and trying to live, eat, and practice together, it would have been very difficult, maybe even impossible," Akimoto muses. "But on this island, it's very easy. It's just the normal way of life. This makes Kodo unique. Not only in our lifestyle, but also in our music."
Additional Info

A Refuge of Culture, a Haven of Drums: Taiko Pioneers Distill ...


Kodo Historic Timeline

The Kodo Mission
Top of Press Release