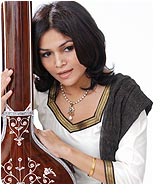 View Additional Info
Devotion Embodied in Song: A Musical Story of Mystic, Heretic and Pious Indian Poetess Meera Bai
It all started when adolescent Meera Bai witnessed a marriage procession and asked "Who will be my bridegroom?" Her nanny playfully showed her a miniature idol of Krishna and said 'Him!' Thus began this Indian girl's lifelong fascination. What started as an innocent childhood fantasy, led to her fervent love of Lord Krishna. Meera's obsession became the defining factor in her life, causing her to leave behind wealth and royalty and become a wandering mystic with a great following. Now, five centuries later, her poetry is well-known throughout India and celebrated worldwide.

The intriguing story of Meera Bai's mystical, fascinating, and tragic existence, comes to life on Meera - The Lover… (release: October 11, 2009), the debut album from Canadian-Indian singer Vandana Vishwas, whose own life story adds poignancy to the recording.

Beautiful and intelligent Meera Bai was a poetess of exceptional caliber from the western Indian province of Rajasthan in the sixteenth century. She married a handsome prince at a very young age. During her marriage, she never lost her childhood infatuation towards Lord Krishna, and prolifically wrote poems of her love for him. Her husband soon died in a war, and although she was expected to burn in his funeral pyre, Meera Bai refused to participate in the then prevalent widow-suicide tradition of sati, publicly declaring that her husband Lord Krishna was still alive! This stance caused her significant duress in a patriarchal society where public expression of romantic feelings was taboo, even if for a divine idol. She was ostracized for her choices and her poetry by her in-laws, but she developed a following of many devotees who joined her in her loving devotion to Krishna. Vandana's musical exploration of Meera Bai's life follows her poetry chronologically, with each poem representing a distinct moment in the emotional state of the spiritual leader.

Meera Bai's songs have often been recorded and sung as Krishna bhajans – religious devotional songs in honor of Krishna. However, Vandana's compositions emphasize the romantic side of Meera Bai', hence the title, Meera - The Lover… "Meera's poems are very, very impressive in terms of literature and expression," says Vandana. "Whenever I read her poems I feel like composing music for them. Her poetry is so strong. The way she talks about Krishna…as if not about a god, but about a lover. There is this fine line between devotion and romance which is transcended in her poems." Today, Meera Bai's poems are recognized as exceptional works, part of the literature in Indian schools, and are gaining international popularity as devotional songs among kirtan enthusiasts and yoga practitioners.

Vandana's own life story, with its tragedies and triumphs, has brought her to develop a fond affinity with Meera Bai. Vandana's connection with Meera began as early as her teenage years, when she was an All India Radio contract artist, and, along with her Guru Mr. D.K. Gandhe, she composed some of Meera Bai's songs. Legendary Indian songbirds Lata Mangeshkar and Kishori Amonkar, who each beautifully sang Meera bhajans, also inspired her fascination with Meera Bai.

Vandana's dream as a little girl was to be a Bollywood playback singer, but the lasting effects of a painful and immobilizing physical disability, inflicted upon her barely two days after her birth by a nurse using an unsterilized syringe, prevented her from being able to pursue that dream.

Now, Vandana is fulfilling that dream all by herself. While there is no actual movie in the making, Vandana sings the story of Meera Bai's life in a way that invokes a visual story. Meera's love for Lord Krishna can be summarized in broadly distinct phases: innocent devotion; longing; realization of romantic feelings; requisition; indifference to world; declaration of love to family; and finally, a state of mind in trance and detached from the affairs of the world.

Vandana symbolically represents each phase of Meera's love towards Krishna by composing one song for each phase from her collection and treating them with an appropriate element from Indian classical music, to evoke respective emotions. Thus, Raag Des adorns the romantic rain song "Badara Re," Raag Darbari emotes the declaration of love in the King's courtroom in "Rana Ji," and serene notes of Bhairav Thaat amplify detachment and longing in "Chala Wahi Des." Each song tells a piece of the story from Meera Bai's life, and the components of each song are important parts of the telling. For example, in Hindi artwork, Lord Krishna is often depicted as a cow herder, playing a flute which not only calls to the animals, but also to his thousands of gopis (milkmaids) who follow the sound of his flute from far away. Vandana uses the sound of the flute to represent the presence of Krishna. It further represents the longing for something which is simply out of reach, which Meera and other devotees can hear, but never see.

Like a Bollywood soundtrack, this recording follows the story of Meera Bai's devotion and love for Lord Krishna, a tale ripe with blockbuster themes of resilience in struggle, and the power of love to triumph. Vandana draws on her own personal experiences and lifelong studies of vocal technique to illustrate Meera's story with meticulously painted aural landscapes.
NOTE: The album is available with and without spoken word narrative that tells the story of Meera between the music tracks.

Tabla - Yashodhan Navathe

Flute - Jatinder Parkash (Jitu Bhai)

Sitar - Raju Raghavan

Dholak - Milind Gothoskar

Acoustic Guitars, Iktara - Vishwas Thoke

Keyboard (Bass, Chords & Strings) - Anthony Soshil (Moon)

Keyboard (Sarod, Santoor & Percussion) - Vishwas Thoke

Chorus - Beatrice Bernard, Mesha Tella, Deepali Rana, Mayank Bhatia, Omer Husain and Vishwas Thoke

Musical Story Voice-Over (in select versions) - Archie Hughes

Musical Story Voice-Over text - Vishwas Thoke
<< release: 10/11/09 >>
Additional Info

Devotion Embodied in Song: A Musical Story of Mystic, Heretic ...


About the songs

About the CD Jacket Artwork
Top of Press Release