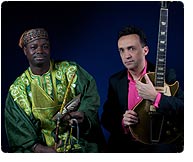 View Additional Info
The Moxie of Electric Guitar Rock Meets the Grit of West African Spike Fiddle: Real World Records Releases Justin Adams' and Juldeh Camara's Tell No Lies
"Ah, the spirits are near," Gambian griot Juldeh Camara told British rock guitarist Justin Adams as they finished a spontaneous song one night in Adams' small garage studio. "It came from nowhere, went on an entire journey. I looked at him, astonished," Adams recalls.
Adams is no newcomer to what some Westerners call "luck" or "coincidence" and some Africans call spirits, having alternated time in the Sahara with Tuareg bluesmen with time onstage as British rocker Robert Plant's guitarist. The past decade has seen a convergence of the unnameable forces that guide the soul of rock and roll and the essence of Western African music forms. Camara's evocative playing on the riti—a Gambian, one-string spike fiddle that evokes a diversity of sonorities—is unexpectedly compatible with Adam's signature Clash-meets-desert trance guitar sound.
The fluidity, spontaneity, and otherworldliness that define both spheres—rock and African—are palpable on Tell No Lies (Real World Records; June 16, 2009). Adams' and Camara's collaboration is filtered through the confidently bluesy grit and urban sensibilities of rock, desert grooves, and old-school R&B. "I wanted to take the music beyond the usual 'nice' sound of a lot of African records," says Adams. To this end, Adams made a mix on his iPod for Camara—who also plays a Ghanaian banjo called the kologo—and for Mim Suleiman, a metallurgist-turned-singer from Zanzibar.
"I made up a mixtape before we started working on the album, and it had things like Johnny Otis, Willie and the Hand Jive, and an old Rolling Stones track from Exile on Main Street, which is very spooky and percussion heavy, along with some various old 1970s Nigerian tunes and Senegalese tunes, with lots of distortion and analog delay," Adams explains. "And we had a bit of Led Zeppelin and The Clash and of course Muddy Waters and Bo Diddley, the musical well between the New World and old West African funk. Those were the reference points."
And for Camara, who grew up learning the riti from his blind griot father, this all makes perfect sonic sense. "People ask me a lot which kind of music is my favorite. I don't have any. Music is family," Camara muses. "If I listen to songs from different people, I hear African rhythm. That's how I feel the music."
The feel for the music Adams and Camara share runs deep. The duo rarely bothers with plotting out set arrangements or managing strict rehearsals, but explores melodies and vocal lines intuitively, exchanging gestures and musical signals to craft and refine their songs. "I'll play a riff, and Juldeh will say, 'Keep that, keep that!', record it on his mobile phone, and start singing," Adams recounts. "I've never worked with a musician where we've talked so little, and played so much."
The connection was sparked by a phone call out of the blue from an excited Camara. "A friend gave me a copy of Justin's CD and I took it with me in Gambia. When I got there I was playing the riti and trying to follow what he was playing. I was feeling it in my body. When I got to the UK, I got his number and called him. I said, 'I heard your stuff. This style you play is very, very connected with my spirit." Then over the phone Camara whipped out a few licks on his riti and the kologo, which he had picked up from Ghanaian musician Atongo Zimba, and Adams "went crazy" on the other end of the line. They were soon jamming and recording together.

Even before strange circumstance united them, Adams' and Camara's lives unfurled along similar lines. The son of a diplomat, Adams spent his youth living and traveling in the Middle East and North Africa. Camara's Gambian childhood was also spent on the road, riding with his griot father from place to place, performing songs and earning a living. When Camara's father had a certain destination in mind, "He just talked to the horse. He would tell the horse, 'I am going to this man. Take me there.' And the horse would take us. I would ride in front, and my father in back."
Camara has inherited his father's profession, especially since his father became a marabou, or healer. As a griot, Camara used his riti to perform at everything from family ceremonies to political rallies to beach hotels, regularly learning new songs from his father. And once a griot, always a griot: Camara sees the constant business opportunities—a plane full of people, say—and the responsibilities of his calling even in his new British home.
"If somebody gives Juldeh something or honors him, he will get his riti out and sing their praises straight away. It is amazing, how he plays for an audience. He'll sing to particular people in the audience, in Fulani," Adams smiles. "That's why we don't have to rehearse or arrange. There is a whole system of call and response. He and I can call each other when we want to change the rhythm or end the song with musical cues."
A griot's charge is to speak the truth, even if couched in humor or poetics. Camara does just that on songs like 'Kele Kele' (No Passport, No Visa). "I'm singing about why I'm sad. In Africa, the people are going the back way to Europe and they die. They go to Morocco, take a small boat, and try to come to Europe. I am telling my youth, my people in Africa to be careful, and to think properly before they move. We have everything in Africa. But I see both sides."
Camara's insistent calls for young Africans to remember their heritage and to those in power to avoid the temptations of their positions may spring from his ancient profession, but the music resonates with the Afro-Anglo grooves heard on today's airwaves. "There are moments in 'Achu,' for example, when we are referencing some modern R&B music but at the same time keeping the structures so Juldeh can feel absolutely comfortable playing pure Fulani rhythms and melodies. Something in the drive and the way it's put together made me think about Timbaland and the Foo Fighters. That pleases me," Adams laughs. "I don't like things to be too coffee table."
"Juldeh is really prepared to take on challenges and learn other kinds of music, yet is a deeply roots musician. An amazing combination. Me, I can't help but be a pretty post-modern kind of player because of my generation. Yet, I have had twenty years of listening to Gnawa music and a lifetime of travel. We have both gone quite a long way in each other's direction. And sometimes Juldeh winds up more R&B than I am," Adam smiles.

The spirit of rock and hip hop flows effortlessly into the power Camara senses in instruments like the kologo, with a sound that Camara loves because it reminds him of his people's huduru (a similar instrument), whose sound lends warriors strength. For Adams and Camara, it's about harnessing that power to defy stereotypes and shelf-worn clichés of African music collaborations.
~ ~ ~
Throughout the coming year, Peter Gabriel's Real World Records will be celebrating its 20th anniversary, with a special WOMAD event at the Tower of London, RW20 concert events in North America, and the release of four limited edition compilation albums—Earth, Air, Fire, and Water—covering the label's two eclectic decades of great music.

Alongside new releases by Justin Adams & Juldeh Camara, Little Axe, Daby Toure and others, classic catalog titles are being re-issued with bonus material. These include the long-unavailable Star Rise, featuring Nusrat Fateh Ali Khan remixed by Talvin Singh, Nitin Sawhney, Asian Dub Foundation, State of Bengal, and others.

Real World Records moves forward while looking back, marking 20 years of innovation in music.
Additional Info

The Moxie of Electric Guitar Rock Meets the Grit of West African ...


Justin Adams & Juldeh Camara: Tell No Lies Liner Notes (text only)
Top of Press Release