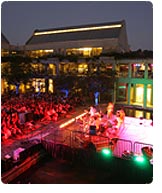 View Additional Info
Welcoming the Stranger, Gifting Music across Generations, and Investing in Culture:
Skirball Cultural Center's Free Sunset Concerts Turn a Courtyard into a Magical Place of Global Understanding
July/August Concerts Feature Issa Bagayogo; Mike Marshall, Darol Anger, and Väsen; Gadji-Gadjo; The Wild Magnolias; and Omar Faruk Tekbilek Ensemble
In a spacious L.A. courtyard nestled in the Santa Monica Mountains, a stage stands above an expansive pond. Here, as the sun goes down behind a hillside, just a few yards away from listeners as diverse as the city itself, a twirling feather- and bead-bedecked band breaks into old-school funk. A Sufi song played on reeds and strings flows in waves over the audience. A group of Gypsy-loving Québécois burst in raucous, harmonious chorus.
In this irresistible atmosphere, concertgoers have been known to form marvelously long, intergenerational conga lines, start clogging, or jam the night away on their djembes after the show. Musicians trade tips with fans, mesmerized kids frolic at the foot of the stage, and an elderly concert regular dances joyfully in his wheelchair.
This is the scene at the Skirball Cultural Center, home of the free Sunset Concerts series, now in its thirteenth season. On Thursdays in July and August at 8 pm (details here), the series presents global masters of musical enchantment and cultural fusion at the L.A. museum and performing arts venue, often in their U.S. or L.A. debuts, all in a uniquely inspiring, intimate atmosphere.
But the Skirball does more than put on a fine show. It opens its galleries, currently featuring two exhibitions on the enduring art of comic books, for special evening hours. It offers a buffet dinner at the Skirball's Zeidler's Café, often serving cuisine from the region of that night's performers. It even provides the SoCal unthinkable: inexpensive and ample parking in the facility's newly expanded parking lots.
The Skirball goes to these lengths for a reason that may surprise those who consider the Skirball as dedicated solely to Jewish culture. "It is essential to our mission as a Jewish institution to present global artists," explains Jordan Peimer, Skirball Director of Programs. "At the heart of all of our programming is the core Jewish value of welcoming the stranger. It's built into everything that we do."
Along with openhanded hospitality, this welcoming spirit is reflected in the Skirball's goal of promoting cross-cultural exchange. "Our mission is about inclusion," continues Peimer. "World music celebrates people's cultural heritage, the history and ideas they bring with them when they encounter new communities, the universal values that transcend time and place. The music we present is about the generational gifting of culture. We want people of all backgrounds to have an investment in their ethnic and cultural identities and to celebrate them within a society in which all of us can feel at home."
To the Skirball, this is a gift that musicians share with each other, as well as with an audience: to create a forum for sharing stories and celebrating ancient legacies. Adds Skirball Music Director Yatrika Shah-Rais, "When artists collaborate with sincerity and true respect, what often emerges is an amazing fusion that stands out as its own unique music. That is what always comes across at our Sunset Concerts."
In this summer's 2009 season, Sunset Concerts will showcase innovative fusion, thanks to the electronica-fired Malian grooves of Issa Bagayogo (Thursday, July 16); the trans-Atlantic, bluegrass-meets-Swedish folk encounter of Mike Marshall, Darol Anger, and Väsen (Thursday, July 23; L.A. premiere); the Roma and klezmer-inflected jams of Montreal's Gadji-Gadjo (Thursday, July 30; L.A. premiere); the serious funk of New Orleans beloved Mardi Gras Indian ensemble The Wild Magnolias (Thursday, August 6); and the Sufi-inspired virtuosity of Turkish multi-instrumentalist Omar Faruk Tekbilek Ensemble (Thursday, August 13).
The young Issa Bagayogo, now known in his native Mali as "Techno Issa," seemed destined for a career as a blacksmith, not as a global dance-floor sensation. Despite remarkable talent on the three-stringed n'goni lute, a long-lost relative of the banjo, Bagayogo was down and out in Bamako working as a bus driver when he ran into French electronica producer Yves Wernert. They teamed up to create a sound that showcases Bagayogo's sixth sense for honoring treasured traditions while grooving to edgy beats.
Bluegrass innovators Mike Marshall on mandolin and Darol Anger on fiddle dreamed of jamming with the guys from Swedish instrumental trio Väsen after learning a few of their tunes from recordings. When they wound up on stage together one night, the five musicians realized how perfectly Appalachia's fiddle tunes could intertwine with Swedish dances on the nyckelharpa. Transforming the sounds of their musical forefathers in the increasingly global spirit of folk, Marshall, Anger, and Väsen have discovered that for passionate musicians, the Atlantic is a bridge easily crossed. (L.A. premiere)
Gadji-Gadjo take their passion for the zesty sounds of Roma and klezmer—along with jazz and other beloved genres—and infuse it into soaring, elegant improvisations and songs with true joie-de-vivre. Based in Montreal and wryly referring to their non-Gypsy status in their name, the sextet moves effortlessly and irrepressibly through lightning-fast dances and playful choruses, paying merry homage to the myriad cultures that forged Eastern European Jewish and Gypsy music. (L.A. premiere)
The Wild Magnolias sound like the best down-and-dirty funk band you've ever heard. But they carry an entire history in their booty-shaking music and unforgettably flamboyant costumes. As Mardi Gras Indians, the Wild Magnolias represent the defiant demand for pride their African-American ancestors made when faced with the rising tide of racism in 19th-century New Orleans, as well as their gratitude to the Choctaws and other Native Americans who aided escaping slaves, effectively welcoming the stranger.
The night before the Wild Magnolias take the stage, the Skirball will screen Tootie's Last Suit, an insightful documentary about late legendary Mardi Gras Indian Allison "Tootie" Montana, revered for turning Mardi Gras Indian life away from gang-style violence towards artistic accomplishment (Wednesday, August 5, 7:30 PM, $5 general; www.skirball.org or (877) SCC-4TIX).
Omar Faruk Tekbilek intuited the connection between prayer and music one afternoon while playing the flute as a child in Turkey. That connection has guided the masterful multi-instrumentalist ever since, as he evolved from sought-after young musician in Istanbul to immigrant blue-collar worker in the U.S. to world-recognized peacemaker and virtuoso. Tekbilek weaves melodies and songs from across the Eastern Mediterranean into stunning compositions reflecting the Sufi belief that all is one.
Additional Info

Welcoming the Stranger, Gifting Music across Generations, and ...


Skirball Cultural Center presents SUNSET CONCERTS 2009 Thursdays, ...
Top of Press Release