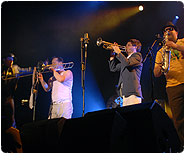 View Additional Info
Fat Freddy's Drop Captured in their Natural State:
Jamming Live and Taking Names at the Roundhouse
Fat Freddy's Drop has battled mad scientists and unleashed mad skills. An unlikely band of sons of the Pacific, they can flip on the fly from Maori reggae to sweet Yankee soul with near psychic precision. Like kungfu masters, they set their dubbed-out funk, hardcore horns, and waves of luscious bass on unsuspecting opponents and turn them into sweaty dance floor devotees.

New Zealand's hard-playing, easy-going jam masters were made to play live. Their elemental sonics are captured on Fat Freddy's Drop Live at Roundhouse London (The Drop; September 28, 2010), one crazy night at the storied London venue. Taking up where the funky battle with Dr. Boondigga and the Big BW left off, Roundhouse goes deep into the brass-fueled energy, honey-smooth songs, and irresistible beats that can take a crowd—any crowd—and keep them on their feet for hours. As American audiences will see for themselves in 2011.

"It's the perfect continuation to our studio album," explains Fat Freddy trumpet player Toby Laing with a smile. "It has all the live thrills and spills of our live shows, the drama. You get to hear the songs in their natural state."

This natural state evolved from a fantastic flow of forces: a Maori singer/songwriter and Maori musicians, a Samoan beat master, and a Kiwi horn section living in musical isolation on an island in the South Pacific, who spent six years jamming together before ever hitting a recording booth. Along the way, they absorbed Black music in all its many forms and came up with an unexpected sound that channels Isaac Hayes and Lee Scratch Perry, Gnarls Barkley and Aphex Twin.

"We've absorbed a few influences along the way: Berlin Bashment, Portuguese Top Forty, Tooting Bhangra Beat and Montmartre TV Shop Techno Hi-Life," says Laing, who along with the rest of the horn section jump from Ethiopiques-style horn lines to New Orleans second line, from Afrobeat to Family Stone flashbacks, while vocalist Dallas can invoke the gentle soul of Al Green or early Rocksteady.

The Kiwi funk power has been distilled over a decade, to the perfect bumpin' balance. As the songs unwind on Roundhouse, it's easy to hear how the band feels each other's next moves, reacting to the serendipitous discoveries and wild twists that come with playing free but focused. Polished six-minute pieces expand to ten-minute-plus jams, yet never lose intensity.

The group originally planned to record two gigs at Roundhouse, where bands from Pink Floyd to The Clash have splashed down, and pick their best performances. Soon the band knew they needed to keep the energy of a single show intact, on a night when the crowd went nuts and the band really dug in. "Start to finish, we decided to keep the integrity of the performance, with all the moments when we're thinking on our feet, working stuff out right then and there," note Chang. "Those moments really drive us on. That's the fun of the group."

Though the ultimate way to hear Fat Freddy live might be at an epic five-hour show at some stunning yet intimate spot on New Zealand's coast, "in the end, the music takes over, wherever we play," Laing reflects.
<< release: 09/28/10 >>
Additional Info

Fat Freddy's Drop Captured in their Natural State: Jamming ...


The Drop

Rebel Soul, Renegade Cartoons, and New Zealand Funk: Fat Freddy's ...
Top of Press Release