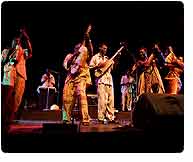 View Additional Info
From the Palace to the People: A Global Griot Saves a West African Tradition with Rock 'n' Roll Revelations and Blues Muses
"To all the rock 'n' rollers of the USA, I'm coming in February, 2010!"—Bassekou Kouyate

On the sandy grounds near the Sahara of West Africa, where the ancient Malian Empire once flourished, where griots have, for generations, sang the praises of local kings and crooned stories of battles long ago, the unassuming musician Bassekou Kouyate stands plucking a small stringed instrument called an ngoni - the ancestor of the banjo. Amidst the urban landscape of Mali's present day capital - Bamako, Kouyate is surrounded by members of his band who wear bluejeans and have ngonis strapped around their shoulders like electric guitars as they sit on motorbikes and cars while talking on cell phones. Like this cosmopolitan city scene, Kouyate's latest album with his band Ngoni Ba—I Speak Fula (Next Ambiance/Sub Pop!, iTunes release: December 1, 2009; physical CD release: February 2, 2010)—juxtaposes the ancient and the modern, seamlessly melding contemporary jazz, blues, rock, bluegrass, and pop influences with Afro-beat and the centuries-old musical traditions of the griots of Mali.

There is some poetic justice that I Speak Fula is the first release on the new label Next Ambiance, an imprint of Sub Pop! The Seattle-based Sub Pop! label was the original home to such legendary bands as Nirvana, Soundgarden, and Mudhoney, and has enjoyed more recent successes with such artists as The Postal Service, The Shins, Iron & Wine, Band of Horses, Flight of the Conchords, and Fleet Foxes. American audiences will have the chance to witness Kouyate's innovative and rocking approach to the ngoni during his 47-date North American tour February through April 2010, joining in the first six weeks banjo pacesetter Bela Fleck's "The Africa Project." Kouyate appears on the title track of Fleck's double-Grammy-nominated Throw Down Your Heart. Another Bassekou Kouyate North American tour is in the works for June and July.

It is no coincidence that Kouyate's music has so elegantly merged with blues-based music. As is well known, American blues has its roots in West Africa, particularly around the Sahel region of modern day Mali. This sonic link became clear to Kouyate in 1990, when a friend who went to Mali in search of the origins of the blues, invited the ngoni virtuoso to play with noted American bluesman Taj Mahal. "I didn't even know who Taj Mahal was," Kouyate recalls, "and we had no language but music to communicate. He began playing and I joined in. When we stopped, Taj said: 'So you already know the blues!' but it was the first time I had ever heard blues. I was just playing my Ségu (home village) style, and it is the same music."

Before this meeting, Kouyate had rarely heard music from outside Mali. Born into a family of famous griot musicians, he was steeped in the traditions of his local village, learning to sing its history. "My diet was all live griot music from the Bambara tradition," he says. "When I was growing up it was rare to hear a radio, and in any case the only station that reached the village was Radio Mali, and they had no funds for, or interest in, playing music from outside Mali." After his father's passing, Koyoute moved to the regional capital Segu and began to accompany many talented singers, including Amy Sacko who later became his wife and is a vocalist in Ngoni Ba. Subsequently, in the mid-'80s Kouyate moved to Bamako where he began playing with kora (21-stringed African harp) master Toumani Diabate. Their deep musical and personal bonds, which have matured over the past two decades through the course of more than eight previous albums together, can be heard on Ngoni Ba's latest recording, as Diabate adds to the polyrhythmic percussive plucking on several songs.

Like Diabate, Kouyate wanted to move beyond the traditions of his ancestors. "We are a new generation now. I can't just do what my father and grandfather did," Kouyate explains. Recounting a performance in 1985 at Bamako's legendary train station venue—the Buffet de la Gare—Kouyate can pinpoint the decisive moment when he started to move along a distinct artistic path. "I was playing with Nainy Diabate," he remembers, "and she was looking for a new sound, and I was looking for a new way to play ngoni. The old guys always sat down when they played, but when rock guitarists soloed they went to the front of the stage. I decided to put a strap on the ngoni, so when it was time for my solo I moved to the center and surprised everyone." With this performance, Kouyate had not only established himself as a major innovative force in Malian music, but also intentionally brought the ngoni into the spotlight. "This is why I have struggled to create Ngoni Ba," he says, "to put this instrument on the international stage. We don't have to stay in back. That's impossible." Since the 1980s, Kouyate has continued to find new ways to play his instrument, creating a double picking technique as well as sliding and bending notes like no one before. Today, these developments have become standard practice for aspiring ngoni players.

By popularizing the ngoni, Koyoute has become its saviour. No longer was it relegated to the courts of elite rulers, but it was shown that it could be everyone's instrument. Over the past two decades Kouyate has revived interests in the ancient ngoni by placing it in new and invigorating musical settings. After playing with Taj Mahal, Kouyate collaborated with fellow Malian musicians to create a jazz-inspired instrumental trio, in addition to participating in a number of projects that fuse ngoni traditions with global popular music: jam sessions with Bonnie Raitt and Bono, as well as the studio sessions of the late great Ali Farka Toure's last album, Savane, and on Youssou N'Dour's most recent recording, Rokku mi Rokka. Such directions have, as Kouyate says, "created quite a stir among traditional ngoni musicians. They began to feel that their instrument was being brought back to life. It was quite possible that the ngoni would have eventually died out, being seen as antique and only fit for museums." Whereas before Kouyate, young musicians in Mali were primarily interested in playing guitar, this modern griot has inspired this country's youth to re-discover the ngoni. Bamako is now home to over a hundred ngoni ensembles. With these developments in mind, Kouyate recalls, "it was one older ngoni player, Sory Kane, that said to me: 'You've saved the ngoni!'"

Kouyate secures the survival of the ngoni by continuing to push its limits, exploring uncharted territory, and speaking to the next generation of players, ensuring that they will continue along the paths he has opened. Appealing to youth, Kouyate has incorporated the sensibilities of rock 'n' roll into his latest album. "For me," Kouyate says, "rock 'n' roll means youth and dancing." In 2007, during a concert in Portugal, Kouyate "really got excited" by the reaction of a young audience, realizing the potential of his music to connect with youth, as teenagers danced in the streets of Lisbon. "The new album was made with this young audience in mind," he says, "It is for them that we have quickened the tempos on several numbers and added touches like the wah-wah pedal to bring more excitement." "Musow," a song dedicated to women, for instance, features wah-inflected ngoni improvisations over an up-tempo calabash and shakere groove.

While travelling along innovative paths, I Speak Fula also recalls the traditional role of the griot as a travelling historian. Referencing the victorious battle of Biton Coulibaly—the founder of the Bamana Empire—"Torin torin," offers praises to this revered leader, celebrating his courage and dignity with a polyrhythmic picking party that includes one of Mali's most talented kamele ngoni players, Harouna Samake. Singing the legend of Nce—the son of a Bamana ruler in the 1770s—"Bambugu Blues" infuses this age-old tale with contemporary flare, featuring a laid back soulful duet between Kouyate and the bluesy guitar of Vieux Farka Toure (son of Ali Farka Toure). Praising the great warriors of Mali's past, guest Dramane Ze Konate plays a hunter's harp on "Senufo Hunter." "When Dramane Ze first came into record," Kouyate recalls, "he was carrying an old harp that he played in 1960 for Mali's first president, Modibo Ketia. Nobody in the studio wanted to touch it, because they thought it was too powerful."

Kouyate also sees Ngoni Ba's latest album as a deeply personal reflection, and a chance to educate his audiences. His wife inspired the song "Amy," which speaks of her humility, strength, and generous heart, while "Saro" is a musical prayer dedicated to the memory of his late brother who died during the recording of the album. Moving across the emotional and philosophical spectrum, the up-tempo bluegrass-tinged "Ladon" reminds listeners to educate their children well for they will have an impact on Mali's ability to progress.

Like griots of the past, Kouyate has garnered great respect by carving out a distinct identity for himself, while maintaining an awareness of the historical significance of his instrument. "The image I like," he says, "is of the ngoni as the griot's ID card. Even if there is a war going on and it is difficult to travel, a griot, with his ngoni slung around his back, was always allowed through, because it was known that he was going to play for a leader, and perhaps act as an intermediary for political negotiations." Bringing the ngoni from the palace to the people, Kouyate represents a new kind of global griot; one who has travelled the world negotiating artistic alliances between the ancient and the contemporary, and, in the process, saving the ngoni with rock 'n' roll revelations and blues muses.
<< release: 02/02/10 >>
Additional Info

From the Palace to the People: A Global Griot Saves a West ...


"I Speak Fula" Album Liner Notes
Top of Press Release