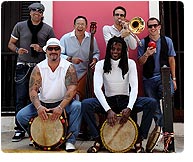 View Additional Info
The Torch Bearers of Puerto Rico's Plena, Bomba, and Beyond! Four-Time Grammy Nominee Plena Libre is the Music of Puerto Rico as it Should Be Experienced Live
Emerging over the chatter of a packed house at New York's Lincoln Center, the warm tone and subtle rhythms of a hand-held frame drum quiets the crowd as it beckons to an assembly of drummers to join. Layering in one by one, soon the polyrhythmic textures of three panderos (frame drums) interweave and converse, echoing as percussionists materialize from behind the audience and march towards the stage. Atop this tapestry of rhythm, a melodious voice calls out, and a chorus of singers responds, providing the final elements of a music known as plena. Awash in this iconic folk music of Puerto Rico, the spectators can't help but become energized by the simple and infectious sounds, swaying, then dancing, then singing along in Spanish. While the momentum builds, the drummers reach the stage and meet up with the rest of their band. As the music brings the audience to their feet, bass, piano, guitar, and horns aggressively enter with a series of thick harmonic staccato stabs, initiating an up-beat Afro-Rican groove that is distinctly Plena Libre, the torch-bearers of the modern incarnation of Puerto Rico's musical roots.

Captivating and moving audiences over the course of a fifteen-year, thirteen-album career, this fine-tuned 12-piece Puerto Rican-based ensemble of virtuoso musicians has only gotten better with age, as evidenced by their four recent Grammy nominations. And now, for the 2010-2011 touring season, Plena Libre has created an all-new exciting repertoire along with new choreography, compelling new stories told from the stage between songs, and an overall presentation sure to win the hearts of both aficionados and newcomers to their sound. "The chemistry and emotions on stage – my God!" says founder, bassist, arranger, musical director, and composer Gary Nuñez. "It never seizes to amaze me how we all feel each other musically. I am continually overwhelmed by the spirit of the band. It is the music of Puerto Rico as it should be experienced. This train will just run you over!" The band alternates between tradition and their unique creative expression and arrangement, keeping audiences engaged with the best of roots music and the surprises of Nuñez's hard-hitting touch.

Plena Libre infuses their contemporary Caribbean compositions with a deep sense of the unique indigenous musical traditions, known as plena and bomba, which developed on the island over a century ago. "When I was 20 years old," remembers Nuñez, "I met Noel Hernández, who is now my compadre. He opened my eyes to my Puerto Rican heritage, got me into studying my history and my musical roots. I realized then that, as much as Puerto Rican musicians were known worldwide in many fields of music, the music that was truly traditional to Puerto Rico was hardly known. I wanted to change that, to devote myself to the music that is based on our African heritage, the plena and the bomba. Up to then they were relegated to holiday get-togethers and in danger of disappearing entirely. That's how Plena Libre, or 'free plena' was born."

A culmination of African, Spanish, and Caribbean sounds, plena was born in the barrios (slums) of Puerto Rico in the early 20th century. Starting as a solo pandero that quickly developed into a trio of interlocking pandero patterns that accompanied a call-and-response vocal style, plena soon evolved from a music solely played by agricultural migrants to a popular form of social expression that recounted the daily lives of the island's inhabitants. "Plena has been called 'the people's newspaper,'" says Nuñez, "because its songs recount the history of our land; it comments on and satirizes everyday life. You won't read its stories in history books." While augmenting plena with contemporary influences such as jazz, merengue, cumbia, and mambo, Plena Libre nourishes the roots of this music by continuing to sing about relevant social issues that affect the island.

While drawing from a diverse contemporary cosmopolitan well, Plena Libre's foundation is built on local elements. "Ninety-five percent of our repertoire is based on the plena and bomba," says Nuñez. Retaining the African call-and-response singing style found in these musical styles, a constant dialogue between the sonero and the coro (chorus of singers) is present throughout many of Plena Libre's compositions. Unlike salsa bands, who usually only have two singers, Plena Libre features five vocalists singing in lush three and four part harmonies; a musical representation of a traditional community gathering. Further giving their live performances a memorable standout quality, occasionally, the entire band will vocalize the percussion parts of the plena, creating an a cappella polyphonic polyrhythm. These artistic choices drive home the core of the tradition in an aesthetic that appeals to broad audiences and aficionados alike.

Using the straight two-beat of the plena, Plena Libre's music is also easy to dance to. "Salsa has many up-beats that can be confusing to some newcomers," says Nuñez, "but we show our audiences how easy it is to dance to plena." The simple elegance of plena rhythms reflect the inclusive spirit of the music and encourages even the most timid audiences to dance with carefree abandon. With these enticing Afro-Caribbean grooves, Plena Libre has been able to break cultural barriers around the globe. "When we played in Morocco the audience started to dance, and people couldn't figure out what the hell was happening. The local reporters later said that they had never seen people dance at a festival like this in this region. Maybe it was a cultural thing. Anyway, it was great! Some of the band grabbed people and started dancing and everybody jumped in."

Dance, in general, is a vital component of Plena Libre's live performances. Their innovative choreography, drawn from folk traditions, offers an experience that is distinct from salsa bands, and illustrates their profound understanding of their Puerto Rican heritage. In the middle of a set, most of the band exits, leaving one of the singers to take center stage as a dancer. He proceeds to challenge a drummer to a rhythmic battle within an African derived, but unmistakably Puerto Rican bomba. Dressed in traditional white costume, including a traditional hat, the dancer stomps and shakes, strategically spurring on the lead drummer in an energetic interplay between rhythm and movement. The band then grabs willing audience members to join the fun in an exciting exchange of dance and rhythm. Throughout Plena Libre's concerts they feature elaborate, visually stunning, carefully crafted choreography that takes its inspiration from the traditions of the Caribbean.

Along with providing exhilarating entertainment, Plena Libre—which has performed in fifteen countries, from Morocco to Malaysia—has a deep commitment to educating their audiences about the traditional culture of Puerto Rico. Since the founding of the group, the ensemble has offered three levels of workshops tailored to the needs of particular demographics. For young audiences, the band has conducted hands-on demonstrations, taking an interactive approach to helping kids play Caribbean rhythms and learn various dance steps. For older audiences, Plena Libre focuses their discussion on the rich historical and cultural aspects of their music, reinforcing these points with live musical examples. And, for professional musicians, through performance and dialogue, the band shares their insight into the music business and their own creative process as well as details of the technical aspects of producing their art.

With an aggressive, tight, yet sensitive style, which balances the traditional with the contemporary, the global and the local, Plena Libre creates a brand of music and live performance that is both profoundly Puerto Rican and universally appealing. Filtering the sounds of various Afro-Caribbean forms like merengue and cumbia, and Afro-Cuban like mambo and yes, salsa if you ask nicely through a unique set of artistic sensibilities, this versatile collection of expert performers create a celebratory spectacle and engaging sonic ecstasy. Thrilling audiences around the world, from the Fez Festival (in Morocco) to the Playboy Jazz Festival, Plena Libre is a train that just keeps picking up steam as it charges ahead in unexpected and exciting directions.
Additional Info

The Torch Bearers of Puerto Rico's Plena, Bomba, and ...


Quotes From the Field and Press

Concert Presenter Checklist
Top of Press Release