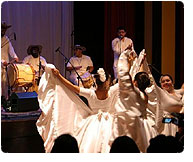 View Additional Info
The Colombian Ricochet of Music: Chicago Colombian Music Festival Leverages a Latin Music Revolution to Launch a Cultural Renaissance Back Home
Ver comunicado de prensa en español


Colombia is in the midst of a revolution and it's ready for the world to listen: to the rawest edge of its experimental urban dance scene, and to its life-affirming Afro-Latin drumbeats handed down over centuries. To the potent voices of youthful innovators ready to stand up and be counted, and to the skillful elder artists who inspire them. To a transformative turning point in the country's musical history.

This revolution takes the stage in Chicago, for the biggest, most exuberant Colombian concert and dancehall event ever held outside of Colombia, the First Annual Chicago Colombian Music Festival, at venues across the city from July 1-30, 2010. Featuring international breakout groups like new salsa classic La Sonora Carruseles and the funky Bomba Estéreo, this experience-with-a-cause is bringing the next wave of Latin music first to a new audience and then back to the people who started it all.

At the vanguard of the movement is Bomba Estéreo (July 26, Green Dolphin 2200 N Ashland Ave.), the "electro tropical" group recently voted "Best New Band in the World" on MTV. This punk-styled, boots-on band is fronted by the startlingly nymphish vocalist Li Saumet, the "Queen of Electro Vacilón," which loosely translated means "electric fooling around." Bomba have been yelping and thumping their way across the world, and Chicago will be the first stop on a new international tour. Yet even they take their musical cues from the African rhythms that beat still in the heart of Colombian village life, the cumbia and the champeta.

These traditional rhythms are the lifeblood of Palenque, Colombia, led by a ritual master or Batata. Next in line to inherit this title is Moris Cañate, master percussionist of NYC's Grupo Rebolú (July 17; Irving Park La Tablas). Fans will get a chance to celebrate Colombian Independence Day with Rebolú, local Colombian salsa bands, and a festive DJ set. "Rebolú," proclaims Suarez, "I say it pretty often and I mean it, is the most authentic yet original and danceable Colombian music experience anywhere outside of Colombia." Cañate and his musical partner, Ronald Polo, both from the Colombian Caribbean coast, take traditional Afro-Colombian traditions and, along with Suarez, create high-intesity music for the Latin dance scene. Playing professionally since they were both twelve years old, Cañate and Polo have accompanied the Colombian president on official visits and performed for heads of state around the world.

Now they are grown up, and Rebolú is a popular and frequent act in Chicago, along with Grupo Cumbé (July 10; Old Town School of Folk Music), a new six-piece band that specializes in the sounds of the cumbia, a rhythm that began as a courtship dance and gives life to much of Colombian music. "What we do," explains Suarez, also a founding member of Cumbé, "is take Colombian classical music by famous composers, like Lucho Bermúdez," and fuse it with traditional Afro-Colombian percussion. Cumbé's fresh sound comes from big band jazz trumpet player Victor Garcia and Darwin Noguera, one of the most talented young pianists in Chicago. Cumbé will be joined on July 23 by local vallento darlings, Juvenato.

The Festival will also feature some of the biggest names in Colombian cumbia and salsa: accordionist Lisandro Meza, salsa stars La Sonora Carruseles, and the urbane La-33 . These artists promise to deliver an evening of salsa that hits all the right notes, mixing Colombian flair, flawless musicianship, and an unrelenting call to dance.

Meza (July 21, Old Town School of Folk Music) is the quintessential artist who, back home,needs no introduction, a grand master of Latin big band and a Colombian national treasure. His rustic, rough-edged voice contrasts with an effortless agility on the accordion, resulting in his signature heartfelt cumbias adored in Colombia but just catching on in the U.S.

La Sonora Carruseles (July 25; Excalibur) are on a worldwide mission: to bring back the classic salsa of the 1970s but with a hardcore, contemporary twist. They are so good at it that their songs have become mainstays at salsa clubs around the globe and drive fans wild around the globe. "This is salsa on steroids," smiles Suarez, anticipation on his lips. "It's just non-stop energy."

Energy and intensity also come easily to La-33 (July 15; Excalibur), a jazz-inflected salsa band known for its hipness and humor. And like La Sonora Carruseles, their sound is rooted in old-school salsa, but captures the quirky, danceable new spirit of urban Bogotá. La-33 broke into the Colombian limelight with a tongue-in-cheek salsa rendition of "The Pink Panther," and has kept dancefloors across the Americas packed with its wry channeling of Henry Mancini, Los Van Van and New York greats like Charlie Palmieri.

The Festival will have resonance not only in Chicago, but also back in Palenque, thanks to Suarez, who when not blazing with El Grupo Rebolú is the owner of Macondo, a Colombian café and cultural center named for the setting of Gabriel García Márquez' Nobel-winning novel, 100 Years of Solitude. Suarez came to the U.S. as a child along with his parents, who soon became steakhouse restaurateurs. He grew up with the idea that he had a responsibility to show the world that Colombia was just as bright a jewel in the treasure box of Latin American culture as better-known musical troves like Cuba and Brazil.

At first, however, bringing Colombia to Chicago was difficult. "When my parents first opened the steakhouse, we had to sell tacos and burritos," Suarez laughs. This year, he seized on the date of Colombia's bicentennial–July 20–and a rare convergence of musical stars to turn a loose series of performances into Colombian music's coming-out party. "I feel the best way to share a culture with somebody is through music," opines Suarez, who hopes to make Colombian music a central part of the Chicago arts scene.

Yet, at the heart of Colombian music, there is an uprooted tree, the town of San Basilio de Palenque. Four centuries ago, the Spanish governor granted freedom to the runaway slaves who settled there. In the lifetimes that followed, Palenque's unique creole music, full of the rhythms of long-lost kings and half-remembered gods, sustained the soul of the Afro-Colombian community and infused the sounds of Colombian pop. Yet, in the 1970s, the economy changed, Palenque opened up, racial friction set in, and a generation all but forgot the culture, language, and music of its ancestors.

The Colombian Music Festival will raise funds to change this, as Suarez hopes to establish a cultural center in Palenque, a lifelong dream. "You have a generation of people who didn't learn their language and culture because they were ashamed," explains Suarez. "Some of the only people that have that knowledge are from musicians from Palenque. They want to found a school where kids can go to learn how to drum, how to dance, learn the language of their town. We can reverse the trend."Suarez plans to fund the center with the undiscovered delicacies of Colombia–coffee, empanadas, and music. As Macondo grows and the Festival returns for years to come, so the people of Palenque will reap the benefits. "We hope to work towards the purchase of a little piece of land," Suarez explains. Members of the Palenque community have already pledged time, labor, and donations to make the cultural center a reality–now, as Colombian music grows against the backdrop of the Chicago skyline, its roots will find new purchase in its native soil.
Additional Info

The Colombian Ricochet of Music: Chicago Colombian Music ...


¡El festival de música Colombiana es más caliente que el verano!
Top of Press Release