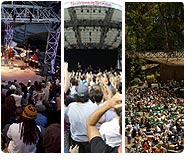 View Additional Info
All Access Pass:
America's Free Festivals Embrace Adventurous Audiences and Springboard Music Careers
There is a breed of performing arts venues that holds a special place in the American cultural landscape. Grand Performances (Los Angeles), Stern Grove Festival (San Francisco), and SummerStage (New York City) use unique public spaces to provide public access to both internationally renowned and eclectically daring performing arts. In a time of collapsing ticket sales, their diverse audiences are growing by leaps and bounds.

These free outdoor festivals have demonstrated for decades that the demand for quality arts programming is extremely high—and increasing. They have become a force in arts leadership, encouraging new approaches at ticketed venues, nurturing new generations of performers and arts lovers, and actively advocating for experimental, cross-genre artistic endeavors. They have shown that when the arts thrive, so does the community they serve.

The Power of Place

The physical spaces of these three festivals couldn't be more different—a storied grove, a glittering urban plaza, a plethora of iconic parks. Yet all three create a powerful sense of place, and from that, a deep sense of community among audience members. Stern Grove, home to the eponymous festival for nearly 75 years, is a marvel of outdoor acoustics, a natural bowl surrounded by tall trees and frequented by hawks and butterflies. Grand Performances' offerings unfold among over an acre of fountains and waterfalls, reflected in the steel and glass of downtown L.A. high rises. SummerStage shows offer a bounty of different New York views, from panoramas of the Manhattan skyline to the manicured meadows of Central Park, as well as historic neighborhoods where certain musical styles were born.

These public settings dedicated to performance foster an egalitarian, laidback vibe while still engendering deep respect and enjoyment of the arts, thanks to their high production values and thoughtful programming. The freedom to come and go, to use the space in various ways—picnicking, dancing, listening from a distance—gives patrons the liberty to create their own experience. This often translates into large friendly crowds, in which thousands dance together or sit in complete, rapt silence.

Open Access

Without walls or entry fees, the festivals create a come-as-you-are spirit that welcomes visitors from all walks of life, people who might not feel comfortable attending similar events at other venues. The festivals' audience demographics speak to this: All three attract youthful and ethnically and economically diverse crowds that closely mirror the demographic profile of their communities.

Programs like Stern Grove Festival, SummerStage, and Grand Performances are often the first exposure young people have to orchestral performances, global music, or modern dance. Beyond mere education, the festivals are grooming the next generation of avid arts lovers and supporters, as the kids in strollers become the adult concertgoers (or the staff member, or the artist on stage). Audiences of all ages now expect quality and adventuresome performances.

Access turns spectators into tastemakers, allowing visitors to try something new and to form their own opinions. In turn, these opinions guide the festivals, creating a strong sense of community connection, thanks to everything from good old-fashioned audience surveys to asking the public to weigh in on potential performers on Facebook and Twitter.

SummerStage carefully matches performers to neighborhoods, presenting big names in their old stomping grounds (Big Daddy Kane in Brooklyn; salsero Eddie Palmieri in the South Bronx), and canvassing park visitors to find out what kind of music they love. Grand Performances cultivates strong ties to tastemakers in immigrant communities by partnering with key arts and cultural organizations, such as the Central American Resource Center (CARACEN), the Korean Cultural Center Los Angeles, and the Farhang Foundation, dedicated to Iranian-American heritage. Since its Depression-era inception, Stern Grove Festival has been a vital platform for San Francisco's performing arts community, presenting the San Francisco Symphony, San Francisco Opera and San Francisco Ballet .

Big-Impact Eclecticism

Thanks to their admission-free status, Grand Performances, SummerStage, and Stern Grove Festival have the freedom to focus on emerging artists and experimental work with potentially broad appeal. They often put big names and up-and-coming performers on the same stage, and audiences trust that whatever's on, it's going to be good.

To engage a wide range of potential patrons, presenters will also make unexpected pairings of highly respected artists from different scenes who share similar sensibilities. SummerStage has booked New York hip-hop legend Afrika Bambaataa with young heir to Fela Kuti's Afrobeat throne, Seun Kuti; or Brazilian singer-songwriter Seu Jorge with indie darling Jose Gonzalez. Grand Performances paired the lightning-fast Senegalese hip hop of Daara J with the old school hip hop-inspired grooves of the daKAH Hip Hop Orchestra. Stern Grove Festival had Indian tabla master Zakir Hussein play Hindustani classical repertoire and then jam with Tabla Beat Science, a project involving younger players and DJs. They presented veteran New Orleans R&B star Alain Toussaint with the brash and youthful Trombone Shorty.

Artist Springboards

Audience access and trust is also a boon for artist development, a vital aspect of all three festivals' work. Grand Performances has offered L.A. performers everything from the boost of repeated engagements to the nuts and bolts of business advice and administrative support. SummerStage, run by musicians and veterans of the music industry, has forged similarly strong ties to artists in the burgeoning New York scene, commissioning and producing new dance and theater works start to finish. Stern Grove Festival was founded to provide stable opportunities for professional musicians and provides local artists with broader exposure alongside internationally-known acts.

With their open-minded audiences, the festivals frequently offer emerging or global artists something that would be hard to find anywhere else: access to a big, enthusiastic crowd ready for anything. Whether the performer is a just-breaking indie artist like MIA or The xx or established but lesser known icons like Salif Keita or Jimmy Scott, exposure to a festival audience can have a serious impact on artists' careers.
Additional Info

All Access Pass: America's Free Festivals Embrace ...


About Grand Performances

About Stern Grove Festival

About SummerStage

2011 Festival Lineups
Top of Press Release