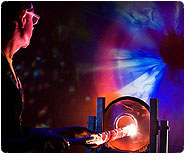 View Additional Info
globalFORCE:
New York's globalFEST Goes International and Hits Joshua Light Show at NYU Skirball Center This September
The Joshua Light Show (September 16, 2012) will feature Forro In the Dark and Debo Band at NYU Skirball Center for the Performing Arts.
Since it began almost 10 years ago, globalFEST (globalfest.org) has become North America's most influential showcase and festival of global music, centered around its annual multi-stage event in New York each January. (This 10th anniversary year's line up will be announced in October.)
Now, as a not-for-profit global music curation force to be reckoned with, globalFEST continues its mission to expand the stages and sites for "world music" by co-presenting, with NYU Skirball Center for the Performing Arts, the September 16 finale of the four-night return of The Joshua Light Show to Greenwich Village.
The Joshua Light Show, founded by multimedia artist Joshua White, are perhaps the most legendary visualists of live music. As resident artists at Bill Graham's Fillmore East during the late 1960's, and in performances at Woodstock, Newport Jazz Festival, Tanglewood, Carnegie Hall, and the classic film Midnight Cowboy, White and his cohorts created live, colorful, psychedelic projections behind the great bands of that era, including the Grateful Dead, Jefferson Airplane, Janis Joplin, Jimi Hendrix, The Doors and The Who.
Utilizing signature projection techniques, including lumia and the fabled "liquid light" for which it is remembered, The Joshua Light Show improvises an intense visual experience to complement the sensation of live music. BOMB has called them "one-of-a-kind, vital and inspiring." Their musical collaborators at NYU Skirball, in partnership with globalFEST, will include Debo Band and Forro in the Dark (September 16 at 7:30 P.M.). (http://www.nyuskirball.org/calendar/jlsglobalfest)
Both Debo Band and Forro in the Dark have a powerful grasp of tradition as well as a glorious penchant for improvisation, psychedelia, and hard-hitting creativity and are, therefore, ideal collaborators for The Joshua Light Show.
globalFEST will also cross the Atlantic for the first time, curating "NY Day" at Île de France Festival on September 9 (More details at http://www.festival-idf.fr/2012/fiche-concert.php?concert=3) with eight NYC-based groups highlighting NY's incredible diversity from Jewish punk to salsa and from gospel to breakdancing, at a stunning 16th century castle and manor, Domaine Villarceaux . The artists performing include Aurelio & Garifuna Soul, Golem, Lucia Pulido, Martha Redbone, The Hot Sardines, Rockafella & Kwikstep (from Full Circle Souljahs,) Aurora & Zon del Barrio and more.
Co-founded and -produced by Bill Bragin, Isabel Soffer, and Shanta Thake, globalFEST is building on successful presentations at this year's Bonnaroo and SXSW festivals, and finding new means to increase global artists' performances in the U.S., in part via the globalFEST Touring Fund, which provides much needed tour support for local and international artists to reach new markets throughout the US. It's all part of a deeper mission to bring once-obscure music further into the mainstream.
"globalFEST's role in developing audiences for a wide variety of international music styles and to encourage artistic risk taking in the performing arts field has made significant strides for artists, audiences and venues alike," explains Soffer. "We hope our mission to encourage cross-cultural exchange, support diverse programming, and develop meaningful cultural diplomacy relationships will create new opportunities within the performing arts field and beyond."
"Part of our goal has been what I half-jokingly refer to as 'infiltration.' We've been successful in moving world music to the center of the conversation in the performing arts world," Bragin notes. "In recognition that the touring ecology for global music moves between non-profit performing arts centers, festivals and commercial venues, we've now started to work on infiltrating the more commercial music field as well, especially targeting younger audiences."
"Through globalFEST's 'infiltration' success, we are acknowledging that a younger audience now exists for world music," Thake adds. "Bringing globalFEST to these festivals is working to fill an actual desire of festival audiences to see these world music bands in venues and festivals that they frequent."
The Joshua Light Show:
globalFEST:
Debo Band and Forro in the Dark
September 16, NYU Skirball Center for the Performing Arts
For info and tickets, call 212.352.3101 or see http://www.nyuskirball.org/page/tickets
Debo Band: Debo Band is not about recreating some mythical gilded age of Ethiopian pop. Taking cues from vintage and contemporary artists unsung in the West, they unleash a fresh blast of rolling grooves, serpentine melody lines, and joyful vocals. Their sound has garnered rave reviews for their eponymous debut on indie stalwart label SubPop/Next Ambiance, produced by Gogol Bordello's Tommy T, reaching #1 on CMJ's World chart in only 2 weeks after its recent release.

"Though their music is steeped in 1960s Ethiopian music, to me, they're a rock band first. That means the beat is hard, the guitar is blistering, the horns are lyrical and you don't have to understand what is being said to understand the emotions behind the voice. Their appeal is universal."–NPR Music
Forro in the Dark perform forró, the hip-swiveling, rural party music of Brazil's northeastern states. Adding a hip urban edge to these rustic roots, the band has perfected a signature blend of downhome forró and urban cool. The collective includes Mauro Refosco (zabumba drum and vocals) who plays regularly with Thom Yorke, Red Hot Chili Peppers and David Byrne; Davi Vieira (percussion and vocals); Guilherme Monteiro (guitar and vocals) and Jorge Continentino (pifano flute, sax and vocals).
"It's infectious–the burbling percussion and the pifano flute under the vocals wheedle their way into our bodies, compelling us to swing and sway."—Wall Street Journal
Additional Info

globalFORCE: New York's globalFEST Goes International and Hits ...


All-Access Planet: globalFEST 2012 Opens New Spaces for Traditions ...

gFSXSW: globalFEST, the Top Springboard Festival for Global Music in ...
Top of Press Release