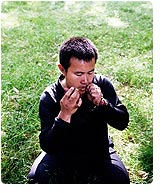 View Additional Info
From Great Silence: Chinese Jaw-Harp Player Wang Li's Sublime Meditations
It seems so simple: A bouncing strip of metal or other material, buzzing and pinging over the resonant open mouth. Yet Wang Li takes this simplicity and finds every subtlety, every overtone, melodic element, and percussive potential in this ancient instrument.
The Chinese-born, France-based solo artist discovered these sounds while growing up in Northeastern China, then honed them during several years of contemplation as part of a French monastic community, where silence reigned. Compelling and evocative, Wang Li's work creates structure out of quiet, building soundscapes from minimal elements, revealing his instruments' profound power.
Now, this contemplative, intense sound is coming May 7, 2013 to The Graduate Center's Elebash Hall, as part of Live@365, a world music series produced by Isabel Soffer/Live Sounds (full details at www.liveat365.org). The Hall's intimacy and great acoustics will present the perfect venue for experiencing Li's work in all its quiet glory.
"Deeply solitary music, quietly spellbinding." –New York Times
"Sublime." –NPR's All Songs Considered
Hypnotic Chinese Jaw Harp: Wang Li
May 7 at 7 PM
The Graduate Center Elebash Hall
365 Fifth Avenue
(bet. 34th and 35th Streets)
Tickets: $25, $20 for GC Members & students (available at Liveat365.org or 212-868-4444). For further information, please contact GC Public Programs at 212-817-8215.
Wang Li hails from Tsinghao, a Northeastern Chinese coastal city on the Yellow Sea. He grew up playing jaw harp, and later played bass in Western-influenced bands in college. But his life took a surprising turn once he graduated: Li wound up in an austere French monastery.

There, he discovered a new contemplative, intimate vision for the jaw harp and Chinese sheng. After four years, he struck out on his own path of patience and stillness. He went on to study jazz at the Paris Conservatory and became fascinated with improvisation. Li then began traveling throughout his native region, learning from local musicians. He mastered circular breathing, which he uses to great effect on the calabash flute. He uncovered the full sonic potential of his favorite instrument, the jaw harp, evoking an interior world rich with echoes of childhood and moving listeners from the inner turmoil to silence.
This artistry and experience have come together to create a repertoire uniquely Li's. It flows from the profound curiosity and spiritual elegance Li has found in the most ordinary moments and things.
"Sometimes I feel I have already died," Li mused provocatively and playfully during a recent talk for the 2013 TED conference, "so I would like to know if you are my illusion or if I am your illusion."
The Graduate Center is the primary doctorate-granting institution of the City University of New York (CUNY). As a cultural and academic hub for music lovers, it offers a wide array of performances, lectures, master classes, and symposia. Home to a distinguished D.M.A program, as well as a world-class ethnomusicology department, it also houses the Barry S. Brook Center for Music Research and Documentation.
The Graduate Center offers more than 30 doctoral programs across the arts and sciences, and a number of master's programs. It accommodates 33 interdisciplinary research centers and institutes, and provides an extensive array of public lectures, exhibitions, and theatrical events. Further information on the Graduate Center may be found at www.gc.cuny.edu
Additional Info

From Great Silence: Chinese Jaw-Harp Player Wang Li's Sublime ...


From Epic Poems to Sultry Songs: Live@365 Brings Vintage Grooves, ...
Top of Press Release