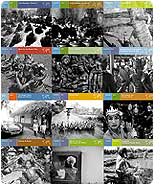 View Additional Info
Landmark Nonesuch Explorer Series Heads to Indonesia

The Morning of World Music
"With the Explorer Series, Nonesuch took a step that seems obvious only in retrospect: opening up the delights of world music by mingling the scholarly and the sensuous."
—Jon Pareles, The New York Times, September 15, 2002
An 18th century military alliance dissolves in a spat between princes vying for an heirloom gamelan. A famed gamelan leader joins Carl Sagan in the Jet Propulsion Lab to watch satellite images of his recording fly past Jupiter. These are tales of the landmark Nonesuch Explorer Series. The original series—issued on vinyl from 1967 to 1984—was a turning point for what was becoming known as "world music." With increasing frequency due to the availability of new technical resources, producers were able to go into the field and return with high quality recordings.
Nonesuch Records launched the revival of the series in August 2002 with the release of thirteen volumes of African music. While a few of the Explorer recordings were reissued on CD over the years, this is the first time the entire series—92 recordings—will be released on CD. Nonesuch is issuing the CDs grouped by global region. January 2003 will see the release of twelve titles from Indonesia and the South Pacific including Music from the Morning of the World, which was one of the first commercial releases of gamelan music, and a CD sampler that compiles highlights from the dozen releases. Subsequent releases over the next few years will group titles from Tibet/Kashmir, Latin America/Caribbean, East Asia, Central Asia, Europe, and India.
Nine of the twelve Indonesian and Pacific titles to be released feature gamelan music from Bali and Java. Gamelan refers to a set of instruments, mainly metallophones and bronze gongs of different shapes and sizes, as well as to the style of music played on the instruments. In the past, gamelan sets were sometimes-sacred heirlooms handed down through generations and could symbolize a monarch's power.
Golden Rain, originally released in 1969 and produced by David Lewiston, earned a cult following for its 22-minute recording of ketjak or monkey chant. Taking up a whole LP side with an uncut excerpt of a non-Western style was unheard of prior to this. Java: Court Gamelan, originally released in 1971 and produced by Robert E. Brown (who coined the term "world music" in 1962 at Wesleyan University), was nominated for a Grammy Award.
Other recordings in the set feature drums made from shark bellies and stingrays, a jaw harp song that mimics frog calls, music from the famous Indonesian shadow play, Tahitian love songs and war chants, a popular vocal style from West Java, and a survey of music from throughout the South Pacific.
While much of what is released today as "world music" reflects the influence of many cultures, most of the recordings in the Explorer Series offer a musical window to a specific community at a specific point in time, without the strong imprint of Western society or pop music. These recordings have served as source material for much experimental and world music today, and the series itself continues to stand on its own as a unique document of musical culture.
Additional Info

Landmark Nonesuch Explorer Series Heads to IndonesiaThe Morning ...


Tribal Music, a Copper Phonograph, and a Space Ship

The Past ...

Glossary

Notes on Style and Origin

Release Dates
Top of Press Release