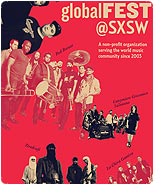 View Additional Info
Desert Rock, Electric Pow Wow, Bhangra Funk: globalFEST Returns to SXSW
globalFEST, America's world music springboard, is returning to infiltrate the indie music hub of SXSW for a showcase of nomad desert blues (Mali's Terakaft), Southern Italian trance-inducing folk (Canzoniere Grecanico Salentino), beats from the Subcontinent via Brooklyn (brassy bhangra funk masters Red Baraat), Afro-Colombian funk by way of Brussels (La Chiva Gantiva), and bad-ass bass music from Ottawa's indigenous underground (the unflinching audio/visual intensity of A Tribe Called Red).
globalFEST night at Speakeasy
Friday, March 15, 8 pm, at 412 N. Congress Ave between E4th and E5th.


8 pm: La Chiva Gantiva
"There's a lot going on in this hot-blooded mess... Restless, arresting, addictive"—Monocle

9 pm: Canzoniere Grecanico Salernico
"Their intense and precise arrangements are utterly beguiling."—The New Yorker

10 pm: Terakaft
"Some of the best and most rewarding music out there"—Pitchfork

11:15 pm: Red Baraat
"Fun as hell" —The Chicago Reader; "One of the best party bands around" —NPR

12:45 am: A Tribe Called Red
ATCR "meshes the pounding beats and cutting chants of powwow music with the pounding beats, bruising bass lines and sonic zingers of international dance music and does it with muscle and good timing." —New York Times
"The decade-old confab known as globalFEST takes the whole world as its stage."—Wall Street Journal
The SXSW showcase night is just one piece of an expanding effort to bring more high-caliber world music to more stages, by quietly yet determinedly infiltrating the performing arts and touring mainstream. Just off of a wildly successful 10th anniversary celebration, globalFEST has evolved into far more than an annual festival/ showcase event. Now a year-round non-profit service organization, globalFEST has successfully launched the globalFest Touring Fund, which just awarded their third round of support for festival alums.
Some of these grantees have already hit the road and include Canzoniere Grecanico Salentino, Chamber Music (Ballake Sissoko & Vincent Segal), and NY's underground Afro- Colombian rebels MAKU Sound System.
globalFEST has also cultivated a growing presence through its "globalFEST on the Road" activities at major music events from SX to Bonnaroo to the Ile de France, and the world-renowned psychedelic Joshua Light Show, demonstrating an ongoing commitment to develop a year-round, robust structure to ensure global music artists can increase their activity in the U.S. One of the main directions for shifting the balance: gently showing how music from unexpected sources can fit wonderfully into festival line-ups.
"Look, we love our indie rock as much as (if not more than) the next guy, but sometimes it's necessary to push your cultural boundaries a little. Know what we're sayin'? That's why we're consistently thankful for globalFEST, which over the years has opened our eyes and ears to some incredible talent far beyond rock's spectrum."—Flavorpill
Additional Info

Desert Rock, Electric Pow Wow, Bhangra Funk: globalFEST Returns ...


globalFEST 2013: Ten Years of Moving International Sounds from the ...
Top of Press Release