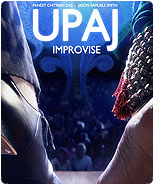 View Additional Info
Where Two Beats Meet: Upaj: Improvise Shines Light on the Hidden Connections Between Indian Classical Dance and American Tap
Improvisation. That freedom through great discipline, through deep-rooted feel for rhythm and expression lies at the heart of both American tap dance and Indian kathak. In Upaj: Improvise, a new feature-length documentary film, two masters from radically different backgrounds share their common understanding as they travel through India, confront aspects of their past and art together, and craft a breathtakingly elegant, grooving work together.
Premiering nationally on January 20, 2014 on PBS stations as part of the AfroPoP documentary series, Upaj: Improvise takes viewers behind the scenes of India Jazz Suites, a phenomenal East-meets-West collaboration featuring renowned Indian kathak icon and guru Pandit Chitresh Das and tap star Jason Samuels Smith. Das is a 68-year old artist who exemplifies the elegance and mathematical precision of kathak, classical dance of North India. Jason is a 32-year old African American tap dancer who hails from the freestyle, streetwise American tradition of contemporary tap. As the two join forces, an unlikely friendship develops that bridges continents, generations, cultures and communities.
The journey of India Jazz Suites poignantly unfolds Das' and Smith's personal stories, stories wrought with loss, struggle, and perseverance. As the two artists tell their truths and come to terms with their demons, they show us that our struggles are worthwhile and that Upaj: Improvise paves the way for hope and redemption.
"The film is about something bigger ...It's about straight up refusal to rest." - Santa Cruz Weekly
"The film proves that no flashing lights are needed to illuminate the captivating dance moves and vibrant personalities of the two stars." - SF Bay
About Pandit Chitresh Das:
Master dancer and educator Chitresh Das makes every gesture—every arch of the eyebrow, every flick of the finger—vibrate with meaning, with an innate creativity and utter commitment based on centuries of intertwining cultural threads. Though so well versed in the classical Indian dance form of kathak that its complex disciplines have become second nature, Das has forged a new, uncompromising path of collaboration and cultural translation, working with flamenco dancers, tap whiz kids, and contemporary performance expectations to continue kathak's lively evolution.
Recognized in India and in the U.S.—Das has been honored as a National Heritage Fellow by the NEA, among many other accolades—Das was born at the right moment to achieve what seems a near-impossible balance of forces. Son of artist and dancer parents, he witnessed both the triumphant, chaotic rise of modern India, while encountering intriguing traces of older forms, which influenced his own take on kathak's expressive, rhythmically complex dance and storytelling.
Trained by his guru Pandit Ram Narayan Mishra from boyhood, Das absorbed the great wealth of kathak, its mathematically precise and demanding rhythms, its elegant gestures and vigorous footwork, its elevated and often hair-raising beauty, and its physical and intellectual challenges. More than mere movement, a traditional, often three-hour-long kathak performance encompasses everything from storytelling (the form's name stems from the noun katha, "story") and poetic recitation, to whipping through dozens of dazzling pirouettes in a row and improvising intricate rhythmic variations.
"The present form of kathak is less than a century old, but the roots definitely go back thousands of years," Das explains. "There are four elements in kathak: tayari or preparation, which is also speed and power; laykari, to play with tempos; khubsurti or beauty; and nazakat, the essence of beauty. So you have the pure dance, speed and power and pirouettes. Then you have the storytelling part, which always fascinated the American audience."
Das's approach to storytelling is indeed riveting: He can transform fluidly from a bold warrior on a horse to a modest maiden gathering flowers. To capture such a range of gestures, postures, and facial expressions, Das draws on simple observation: "Over the years, you watch babies and old people and everyone in between, and learn from life," reflects Das. "That is why Indian classical dancers only improve with age."
Upaj will have its national broadcast premiere as part of "AfroPoP: The Ultimate Cultural Exchange," the innovative documentary series bringing moving stories of contemporary life across the African Diaspora to public television audiences. From the pickup basketball courts of New York City to the baseball diamonds of Curaçao, from a legal court in Sierra Leone to a performing arts stage in India, the sixth season of the series reveals how the collaborative efforts of individuals can change the hearts, minds and landscapes of communities across the world. Produced by the National Black Programming Consortium (NBPC) and co-presented by American Public Television (APT), the series, which consists of independent films, runs weekly on Mondays through February 10.
Additional Info

Where Two Beats Meet: Upaj: Improvise Shines Light on the Hidden ...


Power and Beauty: Chitresh Das Merges Subtle Classical Tradition with ...
Top of Press Release