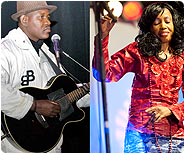 View Additional Info
Caravan for Peace Part II: Mali's Call for Peaceful Dialogue Returns to the US, Featuring Leila Gobi and Mamadou Kelly
War can't stop the music. Malian artists continue to practice their art despite upheaval and violence that delayed The Festival au Desert in Timbuktu indefinitely. Following a successful Part I tour through the Southwest and East Coast in July, Caravan For Peace returns to the US for a second tour, featuring Malian songstress Leila Gobi and desert blues guitarist/vocalist Mamadou Kelly.
The Festival in the Desert has featured everyone from rock idols to Saharan nomads. Now it is coming to several U.S. cities in September. Stops include Chicago, Pittsburgh, New York City, and Washington, DC.
The Caravan will shine a light on two of Mali's greatest contributions to the world's music, Mamadou Kelly and Leila Gobi, both revealing deep and gritty roots of the Saharan music scene and the striking musicianship of Mali's beleaguered artists.
Mamadou Kelly made a name for himself by playing with greats like the late Malian blues legend Ali Farka Toure. He was forced to flee Niafunke for Bamako after the occupation of northern Mali in 2012 and the imposition of sharia that banned music in his home town, but he continues to develop his solo career. A virtuosic acoustic guitar player, Kelly has an encyclopedic knowledge of Malian music, as well as lightning-fast technique and a soulful, bluesy voice. Mamadou releases a new album, Adibar, on September 17.

Leila Gobi was born in Menaka, Northern Mali and comes from conservative Tuareg family. Like many female performers from Mali, her family pressured her to marry and grow a family instead of build a music career. Somehow, she chose both. She created her own group in 2010 and has released 2 albums in her own name: 'Ménaka' and 'Peace'. She is currently working on a third. Gobi plays several instruments: guitar, djembe, balafon and the Tamacheq tinde. She sings in several languages of Mali: Tamacheq, Songhaï, Peulh, Bambara, and French.
About the Festival au Desert and Mali's current crisis:
Held in the Sahara Desert outside Timbuktu, the Festival au Desert (http://www.festival-au-desert.org) was where cultures came together in unexpected ways for 12 years. Artists from the Arctic Circle to the small Pacific Island of New Caledonia, from stars like Bono and Robert Plant to traditional musicians from remote communities, have all found a warm welcome at the Festival, helping to put little-known Saharan music on the global map.
A nationalist uprising in Mali's north reignited immediately after the January 2012 edition of the Festival came to a close. It was soon hijacked by hard-line fundamentalists and conditions rapidly deteriorated in the region. Invaluable historical monuments were sacked and destroyed and music was banned under the fundamentalists' strict version of sharia law. January 2013 fighting intensified when France and other countries intervened. The 13th edition of the Festival had to be postponed. Today, the situation has improved but remains unresolved.
But the country's woes did not stop musicians and music lovers from singing, playing, and speaking out for peace and freedom. In solidarity with the Festival in the Desert many musicians are determined to take a message of peace across Mali and abroad. The Caravan for Peace presents some of the best of those artists and their efforts to testify to the endurance of their music, art and culture.
Musicians and festival organizers want the conversation to move beyond violence, toward more productive conflict resolution. Live performances showing Malian music is one small but vital step to keep attention to the crisis.
Additional Info

Caravan for Peace Part II: Mali's Call for Peaceful Dialogue ...


Caravan for Peace: Mali's Call for Peaceful, Dialogue Comes to the US ...
Top of Press Release