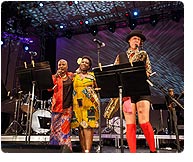 View Additional Info
Knitting Factory Records releases RED, HOT + FELA October 8 Uniting an Eclectic, Collaborative Roster from USA & AFRICA In The Name of AIDS Awareness
Fela Kuti lives on. Since his death in 1997, he's been transformed from musician's musician with a cult-like following to a worldwide musical icon. The last four years have seen the Broadway hit FELA! win Tony Awards and tour the world, Knitting Factory Records reissue the prolific Nigerian firebrand's back catalogue, and now, Red Hot.
Red Hot is an AIDS awareness organization currently partnering with cross-genre collaborators representing rock, hip-hop, Americana, and classical for a forthcoming album release of Fela Kuti compositions, Red Hot + Fela (Knitting Factory, October 8, 2013 ). The release includes classic Fela anthems like "Lady" recorded by tUnE-yArDs, Questlove, Angelique Kidjo, and Akua Naru, "Zombie" recorded by Spoek Mathambo, Cerebral Vortex, and Frown, and "Trouble Sleep Yanga Wake Am" recorded by My Morning Jacket, Merrill Garbus (from tUnE-yArDs), and Brittany Howard (from Alabama Shakes) and "Sorrow, Tears & Blood" reworked by the Kronos Quartet along with TV On The Radios' Kyp Malone and Tunde Adembimpe.
Stuart Bogie, who contributed to the album's "Sorrow Tears and Blood" and "ITT" as a member of Superhuman Happiness, represents a bridge between the early adopters of Afrobeat and the recent recruits of the genre: "Fela's music has deeply inspired and impacted how we think about music," Bogie reflects. "From critical details like his use of guitars and bass lines in perfect rhythmic counterpoint, to his long and epic forms, his music is a treasure and deep reason for musicians all over the globe."
Although Fela inspired each and every artist on the album, Afrobeat is not necessarily the musical meat-and-potatoes for most of these musicians, thus presenting challenging responsibilities in recreating Fela's work. Bogie stated, "One challenge was maintaining the lyrical integrity. Fela's poetry is a critical component, and we aren't satisfied with getting it close - we want our tracks to honor his work the same as you would honor the lyrics of a Beatles, Bob Dylan, or Prince track."
Each rendition on the album tackles each composition quite differently. Honoring the tradition of Afrobeat, "Lady" presents wailing brass and sax with funky electric guitar while other reinterpretations execute their track with more inventive deviance. For example, "No Buredi" is reimagined as an electro-house track by Nneka, Sinkane, Amayo, and Superhuman Happiness meanwhile dance-inducing R & B and hip-hop flavor "Yellow Fever" recorded by Spoek Mathambo and Zaki Ibrahim.
The partnership between KFR and Red Hot is particularly relevant to Fela Kuti, given that he died of an AIDS-related illness himself. To date, Red Hot has released 18 albums and produced several concert and film series to raise money and awareness to fight AIDs around the world. They have partnered with countless local, national, and international AIDS organizations, all of whom have benefited from releases like Red Hot + Fela.
Red Hot + FELA LIVE! is produced with Anthony Demby and Paul Heck for the Red Hot Organization
<< release: 10/08/13 >>
Additional Info

Knitting Factory Records releases RED, HOT + FELA October 8 ...


Red Hot + Fela
Track Listing
Top of Press Release