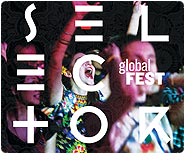 View Additional Info
The World According to globalFEST: globalFEST Selector Presents a Signature Boundary-Bumping Global Mix
Featuring twelve previously unreleased tracks by groundbreaking globalFEST artists
globalFEST, the springboard organization for international artists in North America, has spent the last ten years exploding the "world music" genre, proving how vital and wide-ranging it can be.
What began as a one-night event to boost international artists' presence onto more stages has turned into a year-round, multifaceted organization that does just that: showcasing break-out talent and launching artists onto the international touring scene; encouraging global music into more places through the gF touring fund which provides grants to festival alumni, infiltrating non-traditional world music markets like SXSW and Bonnaroo, and providing professional support to the field including artists and industry professionals. globalFEST continues to push the boundaries of what world music is and what a festival does.
Yet with an entire world to choose from, picking the right artists and right sounds to entice and engage audiences is key. globalFEST Selector (digital release: January 14, 2014; physical release: March 4, 2014) turns the spotlight on a cross-section of the artists globalFEST has championed over the past decade (including a few highlights from the upcoming 11th edition)—those with a commitment to roots and those with a hybrid take on tradition—and to the artistic vision that is moving "world music" into the center. This movement will be in full force at this year's SXSW, where globalFEST will celebrate Selector's release (March 14, 2014 at Speakeasy).
Think of globalFEST Selector as a planetary playlist meant to connect curious fans to thrilling globalFEST artists and to introduce newcomers to great music. globalFEST Selector's musical choices are a powerful grasp of the past mixed with a sixth sense for the sonic future. Building on their reputations as some of the best "ears" in the global music scene, the curators behind globalFEST have selected previously unreleased tracks as eclectic and wide-ranging as a night at the festival.
Siberian indigenous hyper-folk (Namgar) rubs shoulders with a chic Arab electronic track (Yasmine Hamdan). Cosmopolitan NYC-style takes on Afro-Colombian (M.A.K.U. Soundsystem) and Subcontinental sounds (Brooklyn Qawwali Party) keep up with brass blasts from New Orleans (Stooges Brass Band) to the curious alternate universe of the punk circus marching band (Mucca Pazza). Music from often-overlooked places, artists and forms (the swaying Afropop of Burkina Faso's Alif Naaba, the soaring vocals of Mauritania's Noura Mint Seymali) contrasts beautifully with syncretic globe-trotting voices (French / North African world fusion pioneers Lo'Jo, the soulful Appalachian and Native American-grounded work of Martha Redbone).
<< release: 03/04/14 >>
Additional Info

The World According to globalFEST: globalFEST Selector Presents ...


globalFEST Selector
track list

Top of Press Release