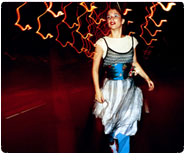 View Additional Info
Brazilian Singer Writes Music of an Ancient Future:

Mylene Strolls the Streets of Rio de Janeiro's Heart and Soul on Debut CD
There was a time when friends of Brazilian singer Mylene got used to her rushing home without notice to write down an idea for a song or poem. It wasn't until after her friends resigned to this odd habit saying, "Oh well, it's a writer thing!" that Mylene started carrying a notebook in her purse at all times.
Each morning Mylene goes to a local bakery for coffee and inspiration, watching to see what happens in this picturesque environment. But for her self-titled debut CD on Fast Horse Recordings being released on October 21, 2003, her research went even deeper. The resulting sound brings to mind the music of Aterciopelados and Bebel Gilberto.
Mylene intentionally sought out the universe of what a new generation of Brazilian musicians was creating and melded it to the experience of everyday people. Ideas came while she drank coffee in street cafés, when she entered a church where humble people prayed, when she passed by a square where old men discussed soccer, when she heard an important part of a film, or simply when friends visited and talked about the day's news. "I went to various raves and traditional Brazilian parties, I talked to DJs and producers," says Mylene. "I read a lot of poetry made by contemporary writers and I went to Lisbon too, looking for our roots."
"I searched for a possible reconciliation of Portuguese and Iberian music with Brazilian music, since we were colonized by Portugal and this influence and all its inherent peculiarities got kind of hidden in the corners of our history," Mylene explains.
The song "48 Horas" combines Brazilian and Moorish sonorities, subverting its Spanish roots in 6/8, with a meeting between Brazilian regional northeast instruments and samplers and electronic programming. This is reinforced by the drama of the lyrics that speak of jealousy, anguish, fear, and the wait for someone who never comes. Another song on the album, "Rio Lisboa," makes the connection between Brazil and Portugal, this time turning colonization inside out. The piece brings together Moroccan instruments, jew's harp, and samplers. The lyrics tell two crisscrossing stories, an imaginary meeting of Portugal's Tejo River and Brazil's Rio de Janeiro.
"I also tapped into the globalized material that spins the world of computers, a material that has not been fully presented to us yet due to the fact that the Third World still lives in the Stone Age in terms of technology, says Mylene. "And I sought a deepening of the themes of Afro-Brazil-ity, revealed in a digital way."
On "Coracão Tonto," which translates to "Dizzy Heart," Mylene makes her way into a mantric dub with a lot of open space and '70s-style keyboards. "Nela Lagoa," or "Lagoon Along Her," integrates Drum 'n' Bass with the samba-reggae that is characteristic of Bahia. The first part of "Clareou," which means "It Lit Up," came to Mylene in a dream. "I wake up singing some melodies, now and then," reveals Mylene. The song is inspired by the African legends of the Orixás and Candomblé, an Afro-Brazilian religion. Mylene calls on Oxossi in search of a lost love. Featuring an exotic blend of traditional Samba and Bossa Nova, mixed with Folkloric and modern electronic styles, Mylene dances and entrances with the soul of Brazil itself.
Berimbau-player and electronic sorcerer Ramiro Musotto produced Mylene's debut CD. His album, Sudaka (Fast Horse Recordings), also comes out on October 21, 2003. A legend in the realm of Brazilian percussion, the Argentina-born Musotto's landed in Bahia, Brazil in the early 1980s as a young man with the fierce determination of becoming a Brazilian percussionist. And that he did, immediately meeting and playing with Carlinhos Brown, helping to create the new sound of Timbalada music. Musotto's hypnotic production style—combining street smarts and futuristic beats with ancient sensibility—is the perfect mesh for Mylene's back-to-the-future lyricism.

The two albums by Mylene and Ramiro Musotto find a home on Fast Horse Recordings, which is best known for its releases of Tuatara. Featuring members as diverse as Peter Buck and Scott McCaughey of REM, Barrett Martin formerly of the Screaming Trees, Justin Harwood formerly of Luna, Steve Berlin of Los Lobos, and renowned jazz/experimental saxophonist Skerik, Tuatara has carved out a wide path in the realm of modern, instrumental composition. Their latest recording, The Loading Program, features Tuatara remixes by DJ Spooky, DJ Logic, DJ Wally, Spearhead's Michael Franti, producer Eric Rosse, and New Zealand's Mr. Reliable. The album plays out as a perfect blend between the organic, live instrumentation of Tuatara, and the electronic wizardry of these top producer/DJs.
Additional Info

Brazilian Singer Writes Music of an Ancient Future:Mylene ...


Song Translations provided by Mylene
Top of Press Release