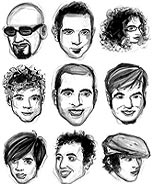 View Additional Info

"Classic Salseros Love a Classic Attitude"

Why Bio Ritmo Won't Subscribe To The Modern Latin Music Scene



En Español
"We're lactose intolerant", says Giustino Riccio, timbalero for Bio Ritmo. "We are very adverse to cheesy salsa. There is not a lot of new stuff we can stand. It's all watered down." A monotonous formula: the matching silk shirt/suits (usually tacky), the same cover tunes (consisting mostly of the latest Latin pop hits, whatever they may be), and enough glitz and show to wow the most innocent bystander. "Turn on a Latin pop station and you hear the same kind of lyrics over and over: casual romance, inconsequential subject matter. Anything just to make a hit that won't make people think too hard," explains lead singer Rei Alvarez. "Most of the songs you hear now lack the individuality and sense of lyrical purpose that classic Latin music is known for. They're just tunes for the apathetic masses to bob their heads to."

Bio Ritmo, who has a new, self-titled, self-released CD, strives to capture the general aesthetic concept of salsa clasica, but with a welcome, modern twist. "Ever since the salsa romantica of the '80's, the pop-ifying and watering down of the music has just gotten worse," continues Alvarez. "The Golden Age is gone. We're not pioneering a new music or anything amazing like that, but I think we're doing a nice job at writing new, original material in the classic style we love so much. I've always seen salsa as a 'ghetto music,' such as the reggae and jazz of the '60's and '70's. Music made by youth trying to make a change in the world around them. A new mentality born of the drug- and free-thinking cultures that was so new at that time. Salsa, like these other forms of music, provided an outlet for the youth. A chance to create and develop talents that could be put on stage for the world to see and listen to. This was also a way to connect with older generations; the roots from which the new music was formed."

Alvarez, who writes most of the lyrics these days, employs an odd combination of practicality and spirituality. "I want the subject matter in my songs to be of relevance to real life. I always come from a personal point of view, of course, but I try to present my message in an almost anonymous way. The important thing is for people to be able to 'feel' a song as a soundtrack for their own experience; music for anyone who knows what I'm talking about. Someone who might suffer inside but is ready for positive change." The group is inspired by the classic salseros and soneros such as Marvin Santiago, who sang in metaphors and allegories to create a particular feeling. "A lot of the things that people tell me they get from my songs are quite unintentional," says Alvarez. "That's good. I just try to use the Spanish language as beautifully as I can without being pretentious. Just as I would my brush or pencil." Alvarez is also a fine artist and did the artwork and design for the CD package. "I'm not trying to be Mr. Poet or whatever; Spanish is such a poetic language that things come out poetically. I try to paint pictures within my songs, with the hope of creating something beautiful enough to be timeless."

"A lot of people don't realize that one of the main things in salsa is word play," adds Riccio. "Guaracha (probably the one Latin rhythm that salsa is closest to in song structure) has a real sarcasm and wit to it. We try to do that in our songs. Rei uses a lot of double meanings and interesting sarcasm. This is not the case with modern salsa romantica; what you usually hear on Latin pop stations."

Bio Ritmo takes the spirit of old salsa and injects it with the experimental aesthetics of soul and rock. "Our bass player (Jon Sullivan) likes to mess with synth pedals," explains trumpeter "Mambo" Bob Miller. "Listen to the guitar solo at the end of Fabula. That's a bass! And Marlysse even plays a Fender Rhodes keyboard (a now classic element of salsa clasica first introduced by Papo Lucca of Sonora Poncena fame), which you never hear anymore. She uses a lot of effects. We're incorporating stuff that few salsa bands today are trying. But people were doing that back in the '70's too. It's the same spirit of experimentation, but technology and our approach allows for new possibilities. Most salseros have forgotten about that."

Additional Info


"Classic Salseros Love a Classic Attitude" Why Bio Ritmo Won't ...


Listening guide with lead singer Rei Alvarez

"Salseros Clásicos aman una actitud clásica" Porque Bio Ritmo no ...
Top of Press Release