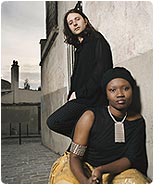 View Additional Info
Set Luna: Subtle Surprises from the Fresh Face of Africa.

An Unexpected Encounter of African and Flamenco Sensibilities between Julia Sarr and Patrice Larose.
"A simmering album of subtle textures and futuristic connotations, Set Luna contains equal parts duende, that ineffable spirit at the heart of flamenco, and a distinct Dakar-rooted sound with an extremely promising future." — Richard Gehr, Carnegie Hall program notes, 10/2005
Senegalese-French singer Julia Sarr is full of subtle surprises. And in a sense, she and French flamenco-inspired guitarist Patrice Larose are living their music in reverse. "Our first big concert was at Carnegie Hall," Sarr exclaims. "Usually people arrive there at the end of their career. For us it was the beginning." The concert took place in October of 2005 on a night billed as "Youssou N'Dour Presents The Fresh Face of African Music," after Sarr and Larose had only played five concerts together.

Their collaborative album, Set Luna, to be released in America on January 31, 2006 by Sunnyside Records (licensed from No Format! in France) is for each their debut recording. "To me it is a solo album with two people," laughs Sarr. "I like the fact that my 'solo debut' is with another person. I love the encounter. And I love the fact that people in Paris have been asking when I would do my own album, and they didn't expect this. They maybe wanted simple easy listening African folk songs. This is not easy listening. You have to listen to it twice to get into it."

"There's an indescribably graceful mixture of depth and immediacy to the stories Julia's telling, transcending language and creating a musical language which strikes right at the heart," says Thomas Rome, Youssou N'Dour's manager and a champion of Sarr and Larose. "In 1960, Miriam Makeba made a similar impression in her first trip to New York, with Harry Belafonte's help. When Miriam performed, her voice was so captivating, so original. Robert Shelton, in The New York Times, called her 'incandescent.' Within a year, Miriam's name had sprung from Carnegie Hall and the major Greenwich Village jazz rooms to worldwide recognition. For me, Julia Sarr appears to have a similar power on stage, something that sets her apart from any other singer I've ever seen, except Miriam, with whom she shares, to my mind, a startling affinity."

Set Luna (So I've Observed, in Wolof) came about when producer Laurent Bizot literally had a dream one night about Julia Sarr creating a flamenco album. Sarr and Larose had met at a Paris concert in 2003, but never expected to work together until Bizot brought them together. Prior to this, each had been a backing musician. Sarr sang with Lokua Kanza for twelve years, as well as backing for Youssou N'Dour, MC Solaar, and Tony Allen, among others. Larose, who at age fifteen was inspired by his Spanish grandfather to listen to flamenco guitar, has collaborated with many jazz and Brazilian musicians, most notably Marcio Faraco. Both artists start with tradition but do not limit themselves to it.

"Originally flamenco came from India," Larose says. "But the funny thing is in Africa you find some rhythms that are the same as flamenco. You find something very close to bulería in Senegal. You find a lot of 6/8 rhythm in both flamenco and Senegalese music. Another interesting thing is the style of singing. Youssou N'Dour and Mali's Salif Keita have something really close to El Camarón de la Isla. I once told Salif Keita that his singing reminded me of El Camarón. He said El Camarón is his favorite singer in the world!"

Neither Larose or Sarr approaches their music on Set Luna as set in tradition. Yet both use their roots as a launching pad, which may be why Youssou N'Dour called Sarr "the fresh face of African music."

"Africa is in motion," Sarr explains. "Because in Africa we now have cable TV. You can have MTV in the village if you want. My generation is the one that is emerging with a mix of Africa and world sounds. We know our culture. We know about the singing, about the history. And we also live in a contemporary world."

"It's funny but Julia doesn't have a typical African voice," says Larose. "She has a lot of soul influence and gospel influence. She doesn't sing like most Senegalese people. She has something different. So we wanted to add more aspects specifically from Senegal."

Listeners will be quick to realize that the title track "Set Luna Djamonodjî" features the vocals of Youssou N'Dour. "Our original vision was one voice and one guitar," explains Larose. "As we worked on the album we wanted to add a little more. For percussion we thought of just one guy: Leïty M'Baye. And we tried to call him, but he is really from another planet. We tried three different numbers and after six months we gave up. When we were about done, he showed up!"

Both Sarr and Larose talk about making music from the heart and not worrying about whether the album would sell. Sarr pushed for ballads. Larose was thinking about overlapping traditions. The compositions are like a dance with both artists asserting in some places, conceding in others.

"I was not worried about the results of the album," Sarr explains. "Usually people do songs and they want to be famous, to get somewhere. We just wanted to invent something new together. It was a fresh encounter. It was quite natural. We didn't think about doing a jazz thing or an African thing. We just said 'Let's do music together.'"
Additional Info

Set Luna: Subtle Surprises from the Fresh Face of Africa.An ...


Behind the Songs: Julia Sarr Talks about Select Songs from Set Luna
Top of Press Release