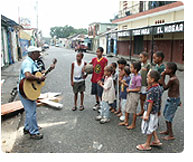 View Additional Info
Machete Rivalries, a Fierce Dictator, & a Cheery 84-Year-Old Guitarist: The Rootsy Dominican Music and Neighborhood Stories of Puerto Plata
This is the story of Puerto Plata, an 84-year-old Dominican guitarist who has survived the machetes and daggers of a fierce neighborhood rivalry and surprise run-ins with the law, as well as a vicious dictator. Puerto Plata is a living library of an acoustic style that has rarely been heard outside of the Dominican Republic, but which still has a great following there. The musician's life motto is "Enchanted with life, and forgetting about death," and his sunny disposition can be heard in every song he performs on his new album, Mujer de Cabaret.
The November 6, 2007 release of the album on New York's IASO Records coincides with Puerto Plata's September tour of world music festivals in Chicago, Madison, WI, Albuquerque, Santa Fe, and Bloomington, IN, and a concert in Las Cruces, NM. Also on November 6, IASO will release Bachata Roja, an acoustic compilation of a style called bachata, which followed the type of music played by Puerto Plata. While many have heard of the Cuban form of son, Puerto Plata keeps alive a son specific to the DR, as well as playing bolero, merengue, ranchera, and an early form of bachata. These styles mark a time when music was gentler, in spite of rough circumstances.
Born José Cobles in 1923, Puerto Plata's mother died when he was young and when he was 16 and his grandmother died, he went to work as a carpenter for the United Fruit Company. He was transferred to Panama where he worked to save 20 pesos in a shoe box to buy a guitarra criolla, a rough handmade guitar made by a local, novice instrument builder.
"A friend back home would handwrite and mail me six chords at a time saying, 'Let me know when you learn them and I will send you the rest of the song,'" remembers Puerto Plata, with a smile. "I was 19 or 20." There in Manzanillo he became nicknamed after his hometown Puerto Plata.
Puerto Plata settled in Santiago, Dominican Republic, where he connected with his lifelong collaborator, singer Daniel Rodriguez, who was already known nationally as a shortstop on both the Santiago and the Dominican national baseball teams, and lead guitarist Ernesto "Sanabia" Almonte.
"I lived by the slaughterhouse," says Puerto. "Next door was a bar that belonged to the Macusíns, the most feared delinquents of La Joya, our neighborhood. There was always a lot of noise and activity on the streets. I would go and sing on the street, drinking with my friends. My wife would tell my youngest daughter, 'Go get your father who is sitting like an asshole with those guys!'"
From 1931 to 1961, the musical climate in the DR was stifled by the Trujillo dictatorship and unless you were a musician favored by the dictator himself, it was hard to record at all. Furthermore, Trujillo personally liked orchestral merengue and accordion merengue, actively turning the public against the guitar traditions. Like most musicians of the day, Puerto Plata, Daniel, and Sanabia scraped together a living by performing at parties and bars and being hired to serenade women, a common practice at the time.
Until the 1980s, there was still a stigma against some of the acoustic guitar music which is considered rural and poor people's music. Record stores in the Dominican Republic prominently displayed the latest merengue pop albums; but they kept stacks of acoustic music in back, because there was still great demand for it. Nowadays, with a crackdown on pirates, it has become harder to find some of the old music, as the fans of this kind of music do not usually shop at higher priced, legal music shops.
Puerto Plata is the last of his generation of musicians. Both Daniel and Sanabia have passed on. For listeners in the U.S.A., Mujer de Cabaret is like a beautifully recorded and meticulously played time capsule of a colorful past which never was captured on tape.
Additional Info

Machete Rivalries, a Fierce Dictator, & a Cheery 84-Year-Old ...


Six True Performance Tales

Song Lyrics in Spanish

Song Lyrics in English
Top of Press Release