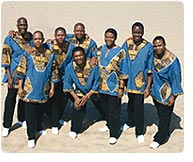 View Additional Info
Ladysmith Black Mambazo Pays Tribute to South African Cultural Icon
Ilembe: Honoring Shaka Zulu Celebrates the Life of the African Warrior Who Built a Nation
In the late 1700s, Shaka Zulu, a charismatic and cunning young warrior, united the Zulus with various neighboring tribes into a single powerful force that helped give birth to a proud nation. Today, Shaka Zulu is regarded as one of the greatest leaders in African history. His combination of warrior discipline, visionary leadership, innate creativity, and unshakable belief in a united nation continues to resonate to this day in South Africa. He is revered as the single figure that gave birth to the indomitable fighting spirit of the Zulus – the same spirit that enabled South Africans to persevere amid the European domination of their homeland for nearly two centuries of apartheid.
Ladysmith Black Mambazo, the GRAMMY® Award winning vocal group from South Africa that has liberated hearts worldwide with a joyous and spiritually charged brand of vocal music and home-grown choreography, pays tribute to this historical icon with their new Heads Up International release, Ilembe: Honoring Shaka Zulu (HUCD 3133 and on SACD in 5.1 as HUSA 9133). Set for worldwide CD and SACD release January 15, 2008, Ilembe celebrates not only Shaka Zulu but the sense of perseverance, creativity and pride that he has inspired in generations of descendants.
"He was a warrior, an athlete, a singer, a dancer, a visionary, he was so many things," says Joseph Shabalala, lead singer and founder of Ladysmith Black Mambazo. "He was a diplomat too. He could talk about differences in a civilized way, but he was also very proud. If you said, 'No, I'm not going to cooperate,' then he would say, 'Alright, let us see who is the boss.'"
The album title translates to "The Greatest Warrior," and either directly or indirectly, each of the tracks speaks to Shaka's rare combination of attributes and how they resonate in contemporary society – not just for South Africans, but for the world in general. From the opening track, "O Mmu Beno Mmu" ("Somebody and Somebody"), the group sings about the inherent benefits of people coming together and working in unison for the greater good. "Kuyafundw' Osizini" ("Learning from the Obstacles") sets the story of Shaka Zulu to music, and emphasizes the importance of confronting obstacles, overcoming them and learning from the experience.
"Let's Do It" acknowledges the dirty side of the political process, but encourages people to rise above petty squabbles as a means to accomplish great things. "Umon Usuk Esweni" ("Jealous Eyes") cautions against the dangers of jealousy. "If you see something you want," says Shabalala, "make sure you want it for the right reasons. Something can be beautiful and alluring, but not good for you."
Further into the set, "Hlala Nami" ("Stay With Me") stresses the importance of staying with those people who will keep you on the right path, while "Prince of Peace" bridges the seemingly disparate elements of Zulu history and Christian tradition. "This song is about that young man named Jesus. It's about encouraging people to love one another. It's similar to the story of Shaka Zulu, but Jesus was much more than that. Shaka would sometimes take his spear and fight. But the spear that Jesus used was the truth. He told people how to live in peace, even when some people in his time didn't want to hear that message."
Nearly two centuries after Shaka Zulu's passing the messages of peace, unity, social harmony and national pride transcend their points of origin and resonate throughout the globe.
"There have been so many generations that have come and gone since Shaka was king of the Zulus, but there are still many hearts and minds to be conquered," says Shabalala, who balances his spiritual convictions with his cultural roots. "There are still many people who need to be filled with the spirit of unity and hope that Shaka embodied. We are trying to remind people of the importance of what this man did. That was my purpose, to bring the people back to the roots of their culture."
Come and hear the sound of Zulu history. Come and catch the spirit of Ilembe, "The Greatest Warrior."
Additional Info

Ladysmith Black Mambazo Pays Tribute to South African Cultural ...


TRANSLATIONS FOR LADYSMITH BLACK MAMBAZO'S ILEMBE: HONORING SHAKA ...


Ladysmith black Mambazo
Top of Press Release