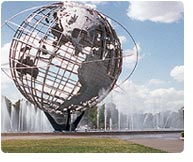 View Additional Info
Queens Theatre in the Park's JPMorgan Chase Latino Cultural Festival:
Bringing the Latino Diaspora of an Outer Borough Into the Theatre and Around the Globe
When a giant model globe was placed in Flushing Meadow Corona Park, it is unlikely that 1964 World's Fair organizers envisioned the 1255-acre park's transformation four decades later. Yet it was a sign of things to come: a multicultural, demographic manifest destiny about to hit Queens, New York. After a period of disuse, NYC's second-largest park has become a community hub for the burgeoning Latino and Asian populations of the borough formerly known as outer. The historic park is also home to Queens Theatre in the Park (QTP) whose programs are wholeheartedly embracing the surrounding community's transformation as the most diverse borough in the cultural capital of America.
The JPMorgan Chase Latino Cultural Festival—presented by QTP and now in its eighth year—has become an international springboard for the careers of artists throughout Latin America, Spain, and Latino America. Dozens of musicians, dancers, and actors have made their USA or New York debut at the Festival and become world renown soon after. Festival organizers walk the line between selecting performers with name-recognition among the Queens Latino community and those on the cutting edge of contemporary performance.
"Some of the artists we present are well known abroad," says Festival artistic director Claudia Norman. "The funny thing is that newspapers from Venezuela or Colombia will announce our concerts and people abroad will call their relatives here in Queens and tell them they cannot miss this or that concert at our Festival! We have to use some reverse logic to reach our audiences, targeting newspapers thousands of miles away."
Take as an example the story of Peru's singer Eva Ayllón. "I came to my advisory board so excited one day," recalls Norman. "I said, 'I finally am able to book Susana Baca.' They looked at me like I was crazy and said, 'Who?!' They had never heard of the Afro-Peruvian singer who is so popular among world music aficionados in the US. They said if we wanted to present the real diva of the lando, we had to book Eva Ayllón. So we did."
Ayllón has been playing for Peruvian communities in America since the 1970s, mostly at churches or for private parties. But it was after her debut theatre performance at the 1999 Latino Cultural Festival that artist management fell into place and other non-Latino venues and audiences took notice. "Now she is playing Town Hall in Manhattan," Norman continues. "She told her manager, 'I want to play Queens!' That is like a big compliment for us way out here in Queens; that we helped her get the recognition she deserved and that she continues to come back here."
This year Ayllón is slated for a triple-bill of Latina wonders with Colombian singer Lucía Pulido and Mexican American songstress Lila Downs. In this rare engagement, Latin music's singing sensations each perform their signature electrifying repertoires.
Audience members and artists alike feel pride in being able to be a part of an arts institution that is putting their culture front and center on stage. Latin great Johnny Pacheco—who will return to the Festival for the third time—has commented that he appreciates the special respect audiences give him when he performs at Queens Theatre. Pacheco and other members of the famed Fania Allstars represent the end of a classic era in New York salsa. By presenting this living legend alongside current stars, the Festival is bridging this historic legacy with what is happening in Latin music and performance today.
Continuing the event's tradition of presenting powerful women in Rock en Español, the Festival brings songwriter Julieta Venegas—whose lyrics express her bi-cultural experience of living in border-city Tijuana and life as a Mexican woman. In previous years the Festival presented Coral and Ely Guerra's USA theatre debut. "Julieta is of the generation portrayed in the film Amores Perros," explains Norman. "She combats the stereotype of Mexicans, showing the face of young urban people in Mexico. Just like Ely, she has maintained control over her artistic vision and musical production."
At the same time, the Festival curators scour forward-looking international festivals and showcases in Latin America and Europe seeking out performers who represent the latest artistic creations, from theater to dance. Just as Brooklyn Academy of Music has dispelled the myth of the "outer borough" and contemporary art museum P.S. 1 has crumbled the high culture wall between Manhattan and Queens, the JPMorgan Chase Latino Cultural Festival meets the standards of even the most discerning downtown critics.
This year QTP has commissioned Producciones La Lágrima to present a world-premiere dance piece at the Festival. Onstage, the collective of minimalist dancers, musicians, videographers, and poets from Mexican border-city Hermosillo—led by choreographers Adriana Castaños and David Barrón—evoke daily existence in the desert. For their Festival premiere, Castaños' and Barrón's duet draws on historic icons and everyday life to convey the diversity of expressions of love.
Festival performers also include the folkloric music and dance ensemble Jocaycu, whose 25-member troupe will perform a wide range of styles from Colombia; and the reinvigorated Venezuelan son of Simón Diaz. New York performers will include Fusion Tango—who mix old and new tango; Super Uba representing the best in modern Dominican bachata, son, bolero, and meringue; and SonCafé, timbalero Ralph Irizarry's eight-piece powerhouse, whose exciting sound blends salsa pura, son cubano, and New York swing. Boston's Sol y Canto will perform a bilingual family matinee of toe-tapping, be-bopping arrangements from Latin America. The Festival program is rounded out with "New York Spin" a film by Pedro Valiente, an Open Mic Night for poetry and spoken word hosted by Emanuel Xavier, and a bilingual educational program by the Sesame Street Workshop.
The Festival is rounded out with Aquí Estoy/Here I Am, a site-specific art installation by Claudia Vieira and Karlos Cárcamo. The two contemporary Latino artists work with identity issues through the reinterpretation of their immediate surroundings. Vieira uses single line drawings directly on the Theatre's walls and floors to "force the viewer to look closely and also around, to acknowledge the immediate surroundings." Cárcamo made caps and jackets out of newspapers in different languages. For him, the newspapers—which he found in his old neighborhood in Queens—are the "fabric" of America.

Schedule subject to change; the comic theatre of Colombia's Tola y Maruja has been postponed until September 18 and 19, 2004. Johnny Pacheco has been postponed until October 29, 2004.

Tickets range from free to $35 and are available in advance from Queens Theatre in the Park's website.

The JPMorgan Chase Latino Cultural Festival 2004 is sponsored by JPMorgan Chase, Con Edison, and Delta Air Lines (the Official Airline of the Festival). The Media Sponsor of the Festival is Time Warner Cable of New York City and New Jersey. Additional funding for the Festival has been provided by the St. Paul Companies, Inc. Foundation, American Express and Bloomberg. Funding for the Latino Cultural Festival and the International Movements Project has been provided by the National Endowment for the Arts. The Latino Cultural Festival was founded in 1997 by The Latin American Cultural Center of Queens and Queens Theatre in the Park.


Additional Info

Queens Theatre in the Park's JPMorgan Chase Latino Cultural ...


Festival Schedule

International Springboard: Past USA or NY Premiers

The Changing Face of Queens: A Demographic Context...

Major Funding Provided By...

Additional Funding Provided By...
Julieta Venegas Takes the Seven Train: JPMorgan Chase Latino Cultural ...

Erotic Dance from the Desert of Mexican Cowboys: The Tragic Love of ...

Aquí Estoy/Here I Am: The Site-Specific Arts Installation Inaugurates ...
Top of Press Release