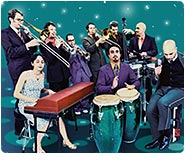 View Additional Info
Who Gave the Freaks the Salsa Controls?
Bio Ritmo Gets All Bionic Boogaloo on You
(Spanish version here)
(French version here)
An era of re-definition and experimentation, the seventies had a burgeoning fascination with science-fiction as the age of technology began to blossom. It was also a time of great musical innovation with the dawn of the remix, disco, and hip-hop DJ's borrowing from all over the musical map and meshing new sounds—many of them influenced by technology—to create music that made the Me generation dance. And this was the decade that birthed the nine members of the post-salsa band Bio Ritmo, who bring that seventies style to their evolving brand of bionic Latin dance music on their latest release, Bionico, releasing October 10th on Locuter Records.
Full of innovation, groovy throwbacks, and futuristic adaptation, the band's latest record is what lead man Rei Alvarez calls "a logical step in our evolution." Following their trajectory of writing original songs that stay true to the soul of salsa, Bionico takes the classic style and zaps it, electrifies it, and what comes out is a super-Latin-dance-groove still oriented in great playing. This essence is pushed further thanks to the engineering skills of multi-GRAMMY winner Jon Fausty, whose presence is heard on many of the classic salsa recordings throughout the 1970s, including most of the FANIA albums.

"Years ago," recounts Alvarez, "our keyboardist Marlysse came up with this riff, the montuno [the repeated piano vamp of classic salsa]. For some reason I just thought of the Bionic Man theme song, which I've always liked, so we put it over the riff."
So what happens when the Bionic Man gets his salsa groove on? Just listen to "Bionic Boogaloo," a song which Alvarez says is "purely us." Everyone added a little piece of their own style, influences, and musical backgrounds and now Bio Ritmo, known for playing classic salsa in their own style, was playing their own style of music on a salsa foundation. The song represents a logical new era for the band. "Salsa is perfect for us; we're such a crazy mix of people, influences, and styles. That's what salsa is," explains Alvarez. "We play on top of this foundation, so it's a given that deep down it's salsa. But now our other influences come through too."
Experimentation is as much an evolution of the band's personal lives as it is an aesthetic choice. "The years leading up to our last album contributed to the sad tone of my lyrics but this year I feel more positive than ever," says Alvarez, "and as a band we're having more fun." On the song "Muchacho," Alvarez cannot resist turning his past stagnation into a message to others, preaching to himself while calling all young men to wake up, appreciate life, and take action to make their lives better. "I love how Rei plays with words," says percussionist Giustino Riccio, "but there is always a deeper meaning. You don't hear that in many salsa albums anymore. There is no tongue in cheekiness, often only a very superficial romantic approach. Salsa lost what it was. Rei is more salsa than salsa."
Just as the Six Million Dollar Man was rebuilt after an accident to be a superhuman man plus machine, so Bio Ritmo is rebuilding a better Latin music machine out of bits and pieces of musical worlds colliding. The band's players range from a formerly dreadlocked dub reggae drummer, a hardcore punk rocker, jazz, rock, disco, and Miami funk players, and a classically-trained pianist. "That's what makes us unique; there are so many influences. We come from this generation, because of our age, and where we grew up… We're so enriched with these influences, so many different styles and aesthetics, the places we hang out at. It's time for all this stuff to come through," says Alvarez.
On "A la cha," Riccio composed a nod towards Egyptian icon Abdel Halim Hafez, adding a Middle Eastern feel. "I had no idea who he was when I picked up an album while we were on the road," explains Riccio. "We listened to this 40-minute suite over and over. This sound eventually made it into this song. We added a great horn opening reminiscent of the Dapkings and voilà." The band also adds an Afrobeat style coda to Bobby Valentin's classic "Seguiras Criticando," another example of the varied styles that influence Bio Ritmo's sound.
The "biological and technological mixture is a concept that applies to both Bio Ritmo's music and influences" says Rei, and Bionico is "more us than ever before. We like to sit down with an acoustic guitar or make weird sounds on a keyboard. We started out as an acoustic project. I remember one of our past band members exploding at the sound man for putting too much reverb at a show once. But electronic music plays a big part in our taste and we're not afraid to move in that direction."
This comes through in wacky samples, vocal effects, and the incorporation of a circa 1970's drum machine called the Drum Fire—an instrument with a "cult following" that produces spacey sounds and reverb-y beats that give Bionico a share of its unique flavor. In some cases the electronic beats are fused to acoustic drums making them indistinguishable.
"Bionic Boogaloo" represents a whole process of innovation for a band playing in—and busting out of—a genre hemmed in by conventions and formulas. "We appreciate now that sometimes being loose is better. Many salsa bands wouldn't do that. They have such a polished sound. We aren't like that. We love salsa as a musical genre and also as a beautiful soundtrack to our lives, but it's not the only facet to our musical personalities."
Spontaneity abounds on Bionico. What may have started as a jokingly-inserted, weird drum fill, was left in the final mix because of its fresh sound. Impulsive whistling and handclapping pop up. On "Dime Viva," a spaced out plena, Riccio and Simmons picked up two thumb pianos that happened to be in the studio at the time and incorporated the sound.
Complementing Bionico's retro feel is a dose of that old-school longing that defines the genre. The song "Lisandra" is a classic tale of unrequited love, but metaphorically harkens back to a time and place that are unattainable by this group of thirty-somethings living in Richmond, Virginia. The song was written on the band's last trip to Puerto Rico, and inspired by its beautiful women. "It's the band's love song to the island", says Riccio. It is "that perfect thing that you can't ever attain, that you know you can never get. The subject of the song represents more than somebody named Lisandra; it represents our trip to Puerto Rico; we had this great time and we weren't able to stay." It may have a light-hearted feel, but "Lisandra" also carries a message, and this is one part of the classical salsa formula that Bio Ritmo is keeping. "I'm still sending a message, I can't help that," says Alvarez, "I feel a duty and a responsibility to not only be creative but to talk about something that matters. I don't wanna talk about sexiness or dumb shit. I want to relate what I say to real life."
Additional Info

Who Gave the Freaks the Salsa Controls? Bio Ritmo Gets All ...


¿Quién dio a los excéntricos los controles de la Salsa? Bio Ritmo ...

Mais qui a filé les manettes de la salsa à des dingues ? Bio Ritmo ...
Top of Press Release